Thursday
November 8
2018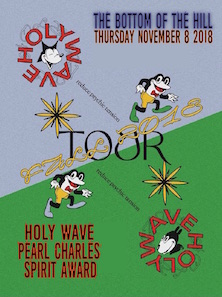 8:30PM

doors -- music at 9:00PM




••• ALL AGES




$12


Holy Wave
www.facebook.com/hlywave/


Rock


Pearl Charles
pearlcharlesmusic.bandcamp.com/


folk rock garage pop psych


Spirit Award
www.facebook.com/spiritawardband/


post-punk psych pop



---

Holy Wave
Kyle Hager
Dustin Zozaya
Julian Ruiz
Joey Cook
Ryan Fuson
-from Austin, TX
-Originally formed in El Paso, Texas, Holy Wave carefully combines fluid forms of sacred surf sounds, droning riffs, and group vocals that haunt and harmonize in equal measure. The band made the move to Austin and released Knife Hits, The Evil Has Landed, and Evil Hits, a compilation featuring select tracks from the band's prior output, and the band's first release on The Reverberation Appreciation Society. The band's second LP, Relax, was released in 2014 and saw the band expanding both their sound and their membership, recording for the first time as a five-piece. The band followed up Relax with Evil Hits Part II, a collection of B-sides and demos, released as a limited edition 10″ EP.
Holy Wave return with their 3rd studio LP, Freaks Of Nurture, to be released via The Reverberation Appreciation Society on March 11, 2016. Recorded at Cacophony Recorders in Austin, TX by Erik Wofford (Explosions In The Sky, The Black Angels, My Morning Jacket).
Holy Wave has toured extensively around the states and internationally, including support for GOAT and Psychic Ills, and festival appearances at SXSW, CMJ, Incubate, and every year at LEVITATION (formerly Austin Psych Fest) since 2011, including the upcoming 2016 edition.

"They've got the far-off, dreamy vocal wash of the shoegazers, but their guitars and hooks are anything but subtle, invoking the tone of early Kinks or Nuggets acts on 'Psychological Thriller'." – Pitchfork
"There's a touch of melancholy lurking under all the sepia-drenched warmth, but make no mistake–this is asleep-in-the-sunlight bliss." – Under the Radar
"It's a garage-rock lover's garage-rock album, unabashedly embracing of Zombies-like slacker psalms and clunky guitar manipulations." – Paste






Pearl Charles


-from Los Angeles, CA


-Pearl Charles lives in the moment, seeking excitement whether it leads her down a dark, dusty road or into the arms of a trouble-making lover. Her full-length debut album, Sleepless Dreamer, describes late night revelry, love affairs, running away and running towards, serenading the sunrise through whirlwind stories of her native Los Angeles, the city, the canyon, the desert, and the road. On a quest to discover the truest version of herself, Charles embraces the feeling of not being settled, a person who always restlessly wants more from life and is willing chase it, wherever it may lead her.

Sleepless Dreamer finds her soulful, often sultry voice gliding through songs tinged with cosmic Americana, a little disco, some classic rock & roll, and a whole lot of that smooth AM gold. Passion, psychedelics and heartbreak inform the highs and lows she rides through the album. Finally able to see clearly through the smoke and mirrors of her surroundings, Charles departs on a consequent journey of questioning and soul-searching, eventually hitting the road in the inevitable search for answers.

As heard in the title track, themes of disillusionment and subsequent realization run through to the album. Examined through the lens of relationships, whether it be the one between her and a lover, a friend, a city, the road, the world, or perhaps most importantly, herself, each experiences helps to shape her developing perspective and worldview.
On "All The Boys," she contemplates the cyclical nature of toxic attraction. Funky stand-out "Night Tides" looks at the illusion a person presents in the beginning of a romance, only to reveal their true colors once they've lured you in. She recognizes the pattern of being drawn to a tempting yet toxic muse over and over, but admits it fuels her creatively.

While many of the songs revolve around romance, they are juxtaposed with more existential/philosophical tracks like "Ghost" and "Only In America", examining the meaning of life and what plagues her generation of disaffected youth.
Arriving January 2018 on Kanine Records, Sleepless Dreamer was produced and engineered by Kenny Woods (formerly of Beck) at the Haas Brothers studio in West Adams, CA. After working together on some covers for Aquarium Drunkard's Lagniappe Sessions series last summer, Charles knew Woods was the right person to collaborate with on her full-length album.
Enlisting an all-star band of friends, the album features the work of Father John Misty's Chris Dixie Darley (guitar), Dan Bailey (drums), Eli Thompson (bass), and David Vandervelde (guitar), Darian Zahedi (guitar) of CRX, Connor "Catfish" Gallaher (pedal steel) of Calexico, Drew Erickson (keys) of Roger Waters, and Maxim Ludwig (guitar). Additional writing collaborators include Stephen McBean (Black Mountain), Jonathan Rice, Jonathan Tyler (Nikki Lane), Carrick Moore-Gerety, and Brian Harding.
Charles has been playing music since she was five years old. At 18, she formed country duo The Driftwood Singers with Christian Lee Hutson, singing and playing guitar and autoharp. At 22, she joined garage rock band The Blank Tapes as drummer. After two fun-filled years immersed in the rock and roll lifestyle, she decided it was time to pursue her own songwriting, and began developing the songs that formed 2015's eponymous debut EP on Burger Records. Her music career has been a chronological progression from old time music to 60's garage and psychedelia, and now more 70's country rock and 80's smooth rock. Drawn to catchy, poppy hooks and choruses, Charles draws on what she loves about each era while developing her unique style as a musician, singer, and songwriter.





Spirit Award
Chris
Daniel
Terence
-from Seattle, WA
-Spirit Award's debut full length, Neverending, houses momentum and starkness. The Seattle three-piece pushes and pulls the ten songs with staggered bright darkness and a massive sound. Sprawling, stereo guitars puncture out from a driving bass/drum foundation. While Spirit Award is aptly capable of generating catchy psych moments, there seems to be no calculable formula to their writing style. Vocal sections dipped in effects shape them more like an instrument, putting the bass in the role of lead guitar. Moments of Neverending point to influences of early New Order and Can, baiting you with a hook then leaving you droning to a krautrock beat.

Spirit Award credit the death of a family member, anxiety, a robbery, and the ending of a relationship for the record's pensive, yet hopeful look into the future. Through all this the band continued working on the record over the course of two years, which is why it garnered the name, Neverending.

Neverending was recorded with Jack Endino (Nirvana), and Eric Corson (Perfume Genius, Ceremony), Connor Birch and GG Reynolds (Sleater-Kinney)

Seattle's Spirit Award are gearing up to release their new album Muted Crowd this fall. The first single from the album, "Supreme Truth," just came out last week:
https://soundcloud.com/spirit-award/supremetruth

Spirit Award is coming off their 2017 album Neverending, which received wide praise from outlets like KEXP, Daytrotter, The Stranger, and many others.