Friday
November 9
2018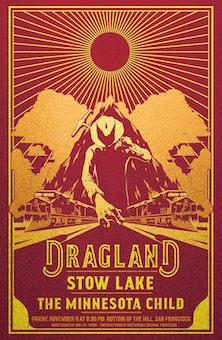 8:30PM

doors -- music at 9:00PM


••• 21 AND OVER




$

12


Dragland
www.draglandband.com/


Rock, Folk, Country, Pop


Stow Lake
www.stowlakeband.com/


Indie Folk Rock


The Minnesota Child
theminnesotachild.com/


Indie Folk



---

Dragland
Guitar/Vox - Adam Dragland
Bass - Michael Carney
Keys - Brendan Getzell
Drums - Charlie Knote
-from San Francisco, CA
-Born and raised in the Canadian Rocky Mountains, Dragland moved to New York State as a teenager and found rock n' roll. He began performing in smoky bars at the age of 17 and eventually followed the music out to San Francisco. Since arriving in The Bay he's become a staple throughout the scene on lead guitar, playing for bands such as Gold Minor, Kat Robichaud and the Darling Misfits, The Sam Chase and the Untraditional and First Church of the Sacred Silversexual.

Dragland's first love has always been songwriting, though, and the self-titled Dragland album was released on November 13, 2017. It's a vibrant, gritty 7-song LP that was recorded and mixed entirely at Gulch Alley Studios in San Francisco.

Dragland is joined by longtime musical comrade Michael Carney on bass. Carney lends an unorthodox, intriguing low end to the songs. Veteran Bay Area musicians Brendan Getzell on keys, PJ Bottoms on guitar and drummer Charlie Knote round out the dynamic musical backbone. The band kicks it up a notch live, driven by Dragland's relentless energy and his raspy, honest voice.

The Bay Bridged says that Dragland "...has the song writing talents of a great neoclassicist Country performer, like Mel Tillis or Dolly Parton, but the frantic guitar and passion of the alternative music movement. The word genuine gets thrown around a lot, but it's the only word that really fits Dragland's performance."





Stow Lake
Alison Cohee, Alex Lozano,
Taylor Pennewell, Tom Relling
-from San Francisco, CA
-​Stow Lake is an indie folk rock band from San Francisco, CA. Led by Alison Cohee and Taylor Pennewell, Stow Lake's dreamy, harmony-driven songs are influenced by the California landscape and lifestyle in which the band was formed. A tight knit group of friends, Stow's members Taylor, Alison, Tom, Christian, Alex, and Gabe, can usually be found in their apartment jamming, especially on foggy summer days. ​






The Minnesota Child
Ethan Buckner (Guitar, Vocals)
-from Minnetonka, MN
-Ethan Buckner (aka The Minnesota Child) picked up the guitar at 16 and started writing songs after he witnessed death for the first time. Inspired by the reflective and soulful songwriting of Sam Beam, Paul Simon, and Justin Vernon, Ethan channeled his own grief and love into his newfound passion for poetry and melody. At first, he saw songwriting as a purely personal exercise, but after being encouraged by close friends, he began performing and eventually recording his songs.

He chose the pseudonym of The Minnesota Child in 2011 while on a cross country roadtrip, because "the songs I write evoke a yearning for home, whether that lies in a place, a person, or a community."
The Minnesota Child released his first EP The Captain in November 2013, after moving to Oakland, CA, where he still lives. The five-track record is a dramatic soundscape of love, hope, and memory. From that album, his song Watercolors earned an honorable mention in the category Best Song by Oakland Solo Artist in the 2013 Oaktown Music Fest. Concrete Jungle, also on The Captain, was a finalist for the 2014 Oakland Mayhem Festival in the Category Best Song by an Oakland Band.

In 2016, Ethan was surprised when invited to open for four-time Grammy nominee Jewel on her Picking Up The Pieces tour at the Mountain Winery. Coming off that show, he decided to follow a longtime desire to build upon his acoustic roots and create a lush full-band sound. He teamed up with his younger brother, drummer and producer Matt Buckner. a frost school of music Graduate, Matt joined TMC to arrange, produce, and drum on the new record.

The Minnesota Child's latest release Fireflies is TMC's first full-band EP. Produced by Jeff Saltzman (The Killers, Blondie) and Matt Buckner, the album features an expansive sound. The record infuses Ethan Buckner's soulful songwriting with lush harmonies, intricate instrumentals, and powerful rhythms to produce a full symphonic sound to take on the open road or a hike in the woods.