Wednesday November 14
2018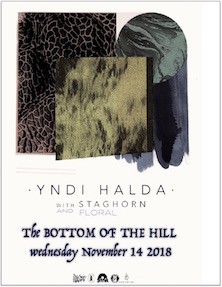 8:30PM

doors -- music at 9:00PM


••• ALL AGES




$

12

in advance

/ $14

at the door
Yndi Halda


from England


www.yndihalda.com/


post-rock


Staghorn
wearestaghorn.com/


post-metal post-rock


Floral
www.facebook.com/floraltunes/


Math Rock



---

Yndi Halda
J a m e s
J a c k
D a n i e l
S i m o n
P h i l
O l i v e r
-from England
-If yndi halda was in the market for a new tag line they might consider "no music before its time" (a riff on the 70's era Orson Wells commercial for Paul Masson wine for any of our readers too young to remember). Consider their resplendent opus Under Summer (2016), which the band worked on over a nine-year span following 2007's Enjoy Eternal Bliss, clear evidence of their patient willingness to take as long as necessary to nurture their music to the point they feel it is ready to put out into the world. The same can be said of their new single A Sun-Coloured Shaker. In fact, it was that extended period of slowly chipping away at the composition, arrangements, and production of the last record that left the band with what they refer to as "small pockets of music which [they] really loved but had no home for". One piece in particular they felt truly belonged with the album but simply needed more time to develop and so they lovingly tended the vine as best they could until the fruit was ready.

"We knew it had to be a part of the album eventually, but also that it needed more time. So, between tours and obligations for Under Summer, we met to continue writing, and we eventually reached our destination: an accompaniment to the album, a new song that tells the leftover stories. We see A Sun-Coloured Shaker as the passing of night that follows Under Summer's day. The dawn after the album's dusk has faded. We wanted to express the realization that something as simple and everyday as sunrise can be so truly life-giving. That the natural rhythm of nightfall and daybreak is a foundation of reality and being." – yndi halda

In this age of instant gratification and binging consumption, there is a great deal to be said for this kind of restraint. This kind of soul-quenching songcraft can't be rushed either in the making or the listening. And while I never for a moment thought of Under Summer as incomplete, it is a fuller experience with this added piece in the fold. A Sun-Coloured Shaker shares the same mellifluous, meandering flow and languid harmony vocals of its older sibling and seems to have soaked up a great deal of the pastoral beauty of Cornish countryside where much of it was recorded. It is pure arcadian beauty with muted echoes of sprawling post rock grandeur cultivated, ripened, and distilled to perfection.






Staghorn


-from Champaign, IL


-We, are Staghorn.

An enigmatically narrated three-piece outfit from Urbana, IL debuts "Parousia I / Kismet II" - 30 minutes of euphonic introspection where global ethic and activism transcend the traditional parameters of music.

Music. Thought. Action. Solidarity.

You, are Staghorn.




Floral
Nate Sherman - Guitar
Ty Mayer - Drums
-from California


-"Floral is the audial equivalent of a three dimensional Aboriginal dot painting. Vibrant textures of climbing hills and cascading waterfalls of notes, bombard listeners erratically via tempo and elevation. Getting lost in the rushing ascent and feeling the thrill is like the wind to your back! This is to be expected, almost guaranteed when a group has sufficient technical ability. You can't take enough steps back to see what vision Floral has."