-

Tuesday
November 20
2018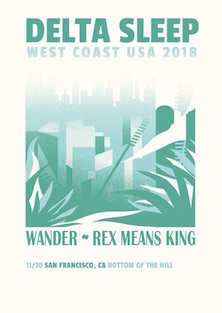 8:00PM

doors -- music at 8:30PM


••• ALL AGES




$

12

in advance

/ $15

at the door
Delta Sleep
deltasleepband.com/


Indie, Rock


Wander
www.facebook.com/wakingwander/


Post-Rock


Rex Means King
www.facebook.com/RexMeansKingCA/


Progressive Psychedelic Mathgaze



---

Delta Sleep
Devin | Glen | Dave | Blake
-from Brighton, UK
-Pairing unusual rhythmic structures with pop melodies, British math rock quartet Delta Sleep carved out a cult following with albums including 2018's Ghost City.

Originally from Canterbury, Kent, the quartet moved to Brighton and started playing in earnest. Comprised of Devin Yuceil (lead vocals, guitar), Glen Hodgson (vocals/guitar), Dave Jackson (vocals/bass), and Blake Mostyn (vocals, drums), Delta Sleep released their self-titled debut EP in 2010 before signing to Big Scary Monsters, which put out the follow-up Management in 2013. In 2015 the band played the post/math/noise rock Arctangent Festival, and the following year they released Twin Galaxies. For their next album, they headed to Italy to record at MAM Studios, and Ghost City was released in 2018.





Wander
Christian Francisco, Guitar
Bernard Barcela, Guitar
Joseph Aguda, Bass
Ryan David Francisco, Drums
-from San Leandro, CA
-Oakland's Wander has honed in on their style of bombastic instrumental post-rock. Their debut LP, Mourning, was produced by Jack Shirley (Deafheaven, Loma Prieta, King Woman) and reflected this intense anthemic sound, catching the attention of Other People Records which re-released the album for Vinyl and CD in 2016.

Wander's latest album, Glass, shows the band's continuing evolution, further exploring the many facets of their sound: The beautiful interwoven guitars that recall the melodic intricacies of Japanese math rock bands like Toe, the epic orchestral build ups and climaxes of Mono, the intensity of punk bands like At the Drive-In, and the brooding atmosphere of Godspeed You! Black Emperor. At the same time, Wander crafts a sound all their own. Glass' many sonic contrasts encapsulate the tension and triumphant release from oppressive forces through spirit and force of will.






Rex Means King
Dom Locastro - Sucks at guitar
Alex Hernandex - Sucks at lead guitar
Jason Coleman - Sucks at Bass
Corey Gough - Sucks at Drums
We all suck at singing too.
-from Vacaville, CA


-We are a mathy psych prog punk whatever band from the SF Bay Area. We've been know to say, "Tight" too much, which is pretty tight if you ask me.