Sunday
November 25
2018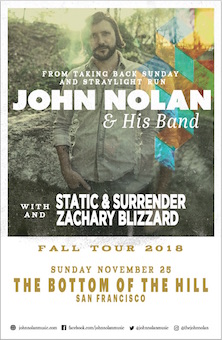 7:00PM

doors -- music at 8:00PM




••• ALL AGES




$15


John Nolan
(of

Taking Back Sunday

&

Straylight Run

)


johnnolanmusic.com/


Alternative indie rock, Pop punk, Post-hardcore, Emo


Static & Surrender
staticandsurrender.com/


alternative rock


Zachary Blizzard
zacharyblizzard.bandcamp.com/


folk-rock



---

John Nolan


-from Charlotte, NC


-Welcome to Abendigo, John Nolan's third solo album. Earlier this year, after writing an album's worth of songs, John took some time in May and spent two weeks at Barber Shop Studios in Hopatcong, NJ and Sapone Studio in Bethpage, NY. Working with producer / mixer Mike Sapone and engineer Brett Romnes, John was able to capture the energetic vocals and musicianship he envisioned for this endeavor. Abendigo features John on guitar, bass, piano and vocals, Brett Romnes (Movielife, I Am The Avalanche) on drums and Josh Knowles on violin and backing vocals. Abendigo blends rock with elements of electronic and ambient music to create something stylistically different than his first two records. "This album combines sounds and styles in a way I never have before. Lyrically it also combines approaches in a new way. It shifts from the personal to societal, direct to abstract and deals with loss and happiness equally. In the end though, it all fits together to form a cohesive album," said Nolan.
On November 6th John and his band will begin a US tour that is more extensive than he's done in the past and will cover most of the country. "We had this nice window of time off and I really enjoy playing with these guys, so I decided to make the most of it," states Nolan. Starting in Charlotte, North Carolina, the tour will cover the North East, Mid-West and West Coast, concluding in Albuquerque, New Mexico on November 28th. Nolan will be joined by all of the same band from his February run, featuring Anthony Natoli on guitar, Mark Eriksen on drums, Camille Nolan on piano and Zach Kirsimae on bass. This talented group also performed on John's live album that was recorded in April. Their set will feature songs from all three solo albums as well as Straylight Run's full lengths and EP's.
When John isn't busy with solo work, he writes, records and performs in Taking Back Sunday.




Static & Surrender
Adam Schuman: guitars, vox
Jeff Campbell: lead vox, guitars
John Schuman: drums
-from San Francisco, CA
-Every once in a while, paths cross at just the right time, in the right place, and within the right circumstances. Such is the case for San Francisco alternative rock upstarts Static and Surrender—Jeff Campbell [lead vocals, guitar], Adam Schuman [guitar, vocals], and John Schuman [drums]. By 2016, brothers John and Adam had established themselves in popular Bay Area stalwarts such as The Trophy Fire, landing critical acclaim and gigging alongside everyone from Dredg to The Dear Hunter. Within that same scene, Jeff earned recognition by receiving national songwriting awards, shared the stage with titans such as John Mayer, and fronted Pine and Battery, among other acts.

One night, a chance encounter between Jeff and Adam paved the way for what would become Static and Surrender.

"I ran into Adam and his wife at a restaurant," recalls Jeff. "We started talking about the static and stagnation we'd both been feeling about our careers, and how we'd both sort of surrendered to it. A day later, he sent me a bunch of demos. As soon as I heard them, it just felt right. It's the brother dynamic that attracted me to Adam and John. They've been playing music together for two decades. They finish each other's sentences, in life and on stage. At the same time, we grew up in similar households. When we met, it felt like we'd known each other forever. Everything fit. It was like we were meant to play together all along." "We had known each other just by way of playing music," adds Adam. "There was a mutual admiration from afar."

They wasted no time. Within a few months, the boys entered a Berkeley studio with producer Jim Greer [The Rondo Brothers, Foster The People]. Elegantly fusing rock 'n' roll energy and alternative emotionality into tight songcraft, the trio forged a style of its own steeped in grunge palatability and modern indie panache. "The writing is so collaborative," explains John. "Everybody's voice is heard." "We grew up in the nineties," continues Jeff. "All of our influences really come together in what we do. For me, it's about the mood and delivery. We want to share a feeling."

That feeling caught the attention of Funzalo Records in early 2017. After one listen, the label signed the group. Now, the debut single "Fall on the Blade" introduces Static and Surrender. On the track, a propulsive groove entwines with a hyper-charged riff as Jeff's voice immediately captivates via an unforgettable hook. "It's about a situation a lot of people find themselves in," he admits. "You're trying to get someone to own up to what they've done. It's a common struggle in life."

Paving the way for their upcoming full-length Static and Surrender, the follow-up single "If Only We Could Sleep" pairs a drowsy buzz with a blues-infused kick. Brought to life in a 360-degree VR music video, the song showcases the band's depth and dynamics. "Lyrically, I wrote that song when I was struggling with insomnia," recalls the frontman. "It was around the time of the election, and there was a lot of negativity popping up. The climate brought out the worst in people. That negativity drives some of us so crazy we can't sleep. The video reflects the nightmare."

Static and Surrender evokes these feelings whether they're on stage or in the studio. It has the power to really resonate too. "If a song stirs emotion in you, speaks to you, causes you to sing in the shower, or makes you want to have sex, we've done our job," Jeff leaves off. "The music we like gets us through our days. We hope we can do the same for other people." (bio by Rick Florino)




Zachary Blizzard


-from San Francisco, CA




-SF native, Zachary Blizzard, is best known for his role in fronting Cannons & Clouds (https://cannonsandclouds.bandcamp.com), as well as his lead singer/main songwriter duties for the experimental/dark-wave/folk duo, Girl-Face (https://girl-face.bandcamp.com). He is currently recording and touring solo, with a self-titled record on new SF imprint, Broken Clover Records, due out in early 2019.