Friday November 30
2018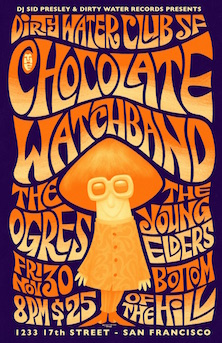 8:30PM

doors -- music at 9:00PM


••• 21 AND OVER




$

25


Dirty Water Club SF presents...
The Chocolate Watchband
www.thechocolatewatchband.com/


Psychedelic garage rock


The Ogres
www.facebook.com/theogres/


Garage




Young Elders




(45 release)


www.theyoungelders.com/


soul janglepop psychedelic


DJ Sid Presley
www.facebook.com/DjSidPresley/


DJ



---

The Chocolate Watchband
David Aguilar- lead vocals, harmonica, keyboards, percussion
Gary Andrijasevich -drums and vocals
Tim Abbott- lead guitar, electric sitar, harmonica, keyboards, vocals
Derek See- rhythm guitar, 12 string guitar, Keyboards, vocals
Alec Palao- Bass, vocals
-from San Jose, CA
-n the roll call of 1960s garage band heroes, the Chocolate Watchband are at the very top. This mythic combo from San Jose, California are better known and more highly regarded now than they ever were in their mid-1960s heyday. Back then, the Watchband were much loved in their native Bay Area as a wild live act, but in the years since the band have come to be known around the globe as the definitive psychedelic punk outfit. This notoriety derives from the handful of singles and LPs that they made, balanced between the Watchbands own intesnse Anglophilic blueswailing, and mysterioso studio trickery on the half of producer Ed Cobb. The Watchbands best known cut is probably "Let's Talk About Girls", which appeared on the seminal 1972 garage band sampler 'Nuggets' (recently re-released by Rhino in box-set form). Countless reissues of their three vintage albums 'No Way Out', 'The Inner Mystique' and 'One Step Beyond' have meant that, like the similarly hitless Velvet Underground, the Chocolate Watchband's reputation has side-stepped the moldy-oldie nostalgia tagged to many of their contemporaries, and instead appeals to on a cult level to fans all over the world.

The Chocolate Watchband was formed at Foothill College in Los Altos in the fall of 1965, with a six-piece line-up, which fell apart at the end of the year. Original members Mark Loomis (lead guitar) and Gary Andrijasevich (drums) regrouped, adding Sean Tolby (rhythm guitar), Bill Flores (bass) and David Aguilar (lead vocals), the latter a charismatic frontman whose stage presence ensured the groups chemistry was in place. With Aguilar at the helm, this definitive Watchband line-up debuted in February 1966 and quickly became the most exciting live act in the area, blitzkrieging teen clubs and ballrooms the length and breadth of California. Signed by Ed Cobb to Tower Records in the fall of 1966, the group went on to release three classic garage band 45s in succession - "Sweet Young Thing", "Misty Lane" and "Are You Gonn Be There (At The Love In)" - as well as a fourth pseudonymous release as the Hogs. In early 1967 the group made an incendiary appearance in the teen potboiler 'Riot On Sunset Strip', forever preserving on celluloid the Chocolate Watchband at the peak of their powers.

Sadly though, by the summer of 1967, the Watchband had fallen apart. Loomis, Andrijasevich and Aguilar all left in quick succession, leaving Tolby and Flores scrambling to fill some dates, which they did by hiring Palo Alto hotshot guitarist Tim Abbott and his band. Tower released the first LP 'No Way Out' in September, which paired original Watchband recordings with trippy instrumentals that had nothing to do with the group, in a mysterious package that gave little credit to the original musicians. The band soldiered on but Abbott and cohorts quit in late 1967 and the Watchband was temporarily defunct. After Tower issued a second LP further consisting of outtakes and sessionmen sides, 'The Inner Mystique', in early 1968, the bands members were approached to reform and cut a new record, with promises of creative control. Sadly, without the presence of Aguilar, the resultant album 'One Step Beyond' was a shadow of the original band. A version of the group, led by Tolby, kept performing in the Bay Area but by the end of the decade the Chocolate Watchband was no more, leaving a legacy of wild memories and some intriguing, amazing records.

Forward to 1995. Aware of the mythic reputation the Watchband had acquired, and having reconnected with his Watchband cohorts in recent years, David Aguilar - now a noted Professor Of Astrophysics -was itching to slip back into his rock'n'roll shoes to become the legendary Jagger-fied frontman par excellence he'd been thirty five years before. Some tentative recording sessions were held with Mark, Bill and Gary (Sean having passed away in the 1980s) but what Aguilar really wanted to do was perform live, for that's where the bands true strength had always lain. Therefore, the Chocolate Watchband bounded back onto the boards at a 1960s rock festival in San Diego in the summer of 1999, to a rip-roaring, rousing welcome, the personnel now featuring Tim Abbott back in the lead guitar spot, and David more than ready to wrest back his crown as the king of punk vocalists from countless pretenders in countless revival bands.

Since that date, the Watchband has performed in public on several occasions – in places as far flungs as New York, Boston, London, Paris and Rome - and has found time to record a several new albums, including 'Get Away,' 'Live At The Love In', 'Revolutions Reinvented' and a new collection of originals that . Due to health and work reasons Mark and Bill have bowed out of live work and so the current personnel features original members, Aguilar, Andrijasevich and Abbott. Alec Palao, Grammy-nominated reissue producer - including several Watchband re-releases - and Watchband archivist, now handles bass duties whilst Alby Cozette, a similarly youthful student of garage rock, has ably stepped in on second guitar.





The Ogres
Johnny Bartlett, Rick Kvoriak, Patrick Phelan,
Jonathan Davis, Billy Graves
-from Oakland, CA
-Your favorite East Bay knuckle-draggers! One chords and a cloud of dust.
Plus plush vests. Finally, a band that rocks exclusively in your favorite key: C.




Young Elders
Nick Castro - voice, organ, guitar, Everett Katigbak - voice, organ, guitar,
Juan Elias - drums, Nick Lyon-wright - bass
-from San Francisco, CA
-young elders are a cosmic soul-pop band from San Francisco, bringing street harmonies and psychedelic wizardry on the edge of a blade. They replaced the acoustic instruments of their first albums with Moogs, combo organs, and fuzz guitars.

Lead songwriter Nick Castro is known for his acoustic work that featured members of Current 93, Espers, and In Gowan Ring, as well as for his time in legendary UK psych-pop band, Kaleidoscope. Castro, who currently also plays with Asteroid #4, has played Spain's EuroYeYe, the Austin Psych Fest, Belgium's ZXZW festival and has shared stages with the Sun Ra Arkestra, Vetiver, and Os Mutantes among others.

Along with Nick Castro on lead vocals and keyboards, the current members feature veteran musicians Juan Elias (of Argentina based modern tango group Bettinotti Fernandez) on Drums, Nicholas James Lyon-Wright (of East Bay band Room For Dream) on bass guitar, and Everett Katigbak (bay area jazz guitarist) on rhythm guitars and organ. Though this newest lineup is less than a year old, they've already played shows with Chicano Batman, Mondo Drag and Asteroid #4 at venues across San Francisco, such as Bottom of the Hill, The Independent, and The Rickshaw Stop.




DJ Sid Presley
David Greenfield
-from Pacifica, CA
-David Greenfield, aka DJ SID PRESLEY, spins the music of the late 1950's through the 1960's, including British Invasion beat, surf and exotica instrumentals, groovy mod pop, greasy rhythm and blues, raw garage rockers, and much, much more. An evening with DJ Sid guarantees sounds geared to dancing, drinking and excitement. His carefully-curated sets are packed full of both ear-opening rarities and crowd-pleasing ravers. And it's all vinyl, all the time!