Sunday December 2
2018
2:00PM

doors -- music at 3:00PM
••• 21 AND OVER
$
10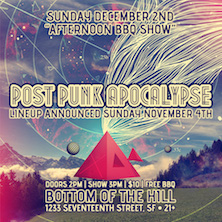 Iron Man Moving & Subliminal SF

presents...




"Post Punk Apocalypse"




Afternoon BBQ Show: Free BBQ food!


Matadore
www.facebook.com/matadoreband/


Post-Punk Power Pop


Adam Brookes


of

Dangermaker


adam-brookes.com/


Post Punk / Post Pop / Darkwave


Errors<


~

Errors Greater Than


www.facebook.com/errorsgreaterthan


Post-punk New Wave Rock


The Same


featuring Noah Landis of

Neurosis


www.facebook.com/The-Same-1487559401573865/


New wave



---

Matadore
Tobias Hawkins - vocals
J. Cairn - bass
Art McConnell - drums
Michael Papenburg - guitar
-from Oakland, CA


-Matadore is a Post-Punk Power Pop band from Oakland, CA. They combine nakedly honest confessions, melodic bass lines, and entwining guitar melodies to create shimmering worlds of dark and light.






Adam Brookes


-from San Francisco, CA


-The new solo project from Dangermaker's prolific frontman, Adam Brookes, may come as a surprise to fans of his previous work.

Born in Los Angeles, California, Brookes began seriously writing and recording music around 1999 in San Francisco with a collection of cheap instruments and a four-track cassette recorder in the closet of his creaky old apartment. After forming indie pop band Dangermaker, music went from pastime to obsession for Adam as he dealt with the sudden death of his father during the first week of tracking their debut album. The experience plunged him further into his art with a sense of urgency, eventually emerging with a euphoric sound that defined Dangermaker's releases on Breakup Records.

New debut solo single All I Got Is You brings a more summery, minimal, electronic feel than we've heard from the singer-songwriter before. Lyrically reflecting on whether or not he has something to lose now, he finds himself questioning and grappling with what exactly that might be. Recent experiments with electronic production first led to commissioned compositions for The North Face and Brookes realized that certain life-long musical influences had previously been neglected. Rather than force-fitting everything into an existing box, this new solo work is left free to land where it may, fusing electronic and hip-hop influences just as much as rock, pop, R&B or anything else. Following recent festival appearances at Bottlerock Napa and Live 105's BFD Music Festival among others, Brookes' music has since appeared on radio, television & film, Nissan & Acura ads, while also composing music for new indie hip-hop passion project Nites.





Errors<
James M., Bass
Will E., Drums
Axel R., Guitar
Brian B., Vocals
-from San Francisco, CA


-Post-punk New Wave Rock






The Same
Noah Landis
Rachel Kronkor
Wayne Grim
-from Oakland, CA


-The Same thinks of themselves as Badass New Wave, but others differ in opinion, not about the Badass part. One part Lou Ferrigno, as the Incredible Hulk, one part subversive French Cinema protagonist, one part teenage-goth in a Lunchroom 'incident'. Unknown things can happen, you probably won't be able to turn away. The Same has inhabited the Oakland promised land for all it's life. Influenced by the grime, focused by the never ending sun, driven mad by the sound. The trio features Noah Landis on Guitar, Rachel Smith on Drums and Wayne Grim on Bass and Vocals.