Friday
December 7
2018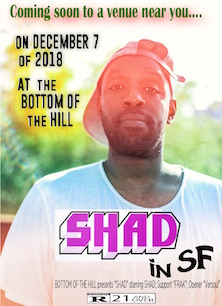 8:30PM

doors -- music at 9:00PM


••• 21 AND OVER




$

13

in advance

/ $15

at the door
Shad
www.facebook.com/shadk/


Hip Hop - Rap


Frak
www.facebook.com/FraktheMC/


Hip-Hop


Versoul
www.versoulmusic.com/


Hip Hop



---

Shad


-from London, Ontario Canada


-If you boil down Shad's trajectory as a hip-hop artist up to this point, it all comes down to love. At a show, his people stare up at him with unconditional amounts of the stuff and he has used his platform as a rapper, a musician, and a writer, to search for and highlight all the love this hard world has to offer.
Shad's family settled in London, Ontario after fleeing the Rwandan genocide. He came up like a lot of first generation Canadian kids, with this cultural duality and the sense that this good country had some baggage that he'd have to unpack some day. It was complicated, but he was raised well and he studied and contemplated the world. He has a Master's degree, which he earned living in Vancouver for a few years but has since settled in Toronto.
He has released five solo albums: 2005's When This Is Over; 2007's The Old Prince; 2010's TSOL; 2013's Flying Colours; and 2018's A Short Story About A War. The middle three were all nominated for Canada's prestigious Polaris Music Prize and TSOL won the 2011 Rap Recording of the Year at the Juno Awards. With a rare combo of humour and substance, Shad's records are a joy to listen to, full of pop craftsmanship that doesn't turn a blind eye to human nature. Oh, and on a strange whim, he explored late eighties/early nineties chart-topping R&B vibes, on 2016's Adult Contempt, as Your Boy Tony Braxton. Shad likes pop music.
In the past five years, Shad has elevated his profile and practice by emerging as a vital broadcaster: after departing his hosting gig on CBC Radio's q, he went on to host the Hip-Hop Evolution docu-series, whose 2016 season was released by HBO Canada and earned both a prestigious Peabody Award and an International Emmy Award. Shad is on an Award Tour.
With all sorts of flows, a gorgeous singing voice, and a mind full of musical ideas, Shad is one of rap's most significant artists. He's on a mission of sorts that involves some soul searching of his own but is also about connection. His powerful work has galvanized fans and, after flying into the sky, always lands on common ground. Love is love.





Frak


-from San Francisco, CA


-Frak is a rapper from the Bay Area. A songwriter, battle rapper, producer, and music video director, Frak's art is intersectional between all these mediums. His music videos give a new layer to his music, and his rap battles give a new peephole to his personality. His mixtape Bagels was named one of SF Weekly's top local hip hop albums and has over 200,000 plays online. His music videos for Small Talk, Delusional Rapper & Draymond off his new album have all cracked 100,000 views, and the latter even got a shoutout from Draymond Green himself.

Known for his freestyle skills, Frak started at 15 as the Bay Area MC Olympics champion, and since has been battling from Canada to the UK at events like Tourettes without Regrets and King of the Dot. In his spare time, he works with youth for an organization called Youth Speaks, teaching hip-hop writing and freestyling around the Bay. You can catch him live, as he has performed along such artists as Kendrick Lamar, Earth Wind & Fire, Anderson Paak, Shad, Travis Scott, Mistah Fab and Watsky.




Versoul


-from San Francisco, CA


-Versoul is an Alternative Hip-Hop Artist, Producer and Sound Engineer born in San Francisco, California who writes music as a form of expression and self-discovery since the young age of 8. Proudly mixed with the roots of Japanese, Hawaiian, Filipino, Salvadorian and Italian descent, Versoul dedicates her musical intention to inspire other mixed youth all around the world to continue pushing forward through life, struggles and oppression, with self-love, resilience, and humility in order to break all boundaries, destroy stereotypes and eliminate double standards brought on by society and mainstream media. Through her music, Versoul continues to discover her self worth each day and challenges to look through multi-perspectives to create strength and harmony through music between all living beings.
​
Previously known as Babii Cris, Versoul announced that, after 10 years, she has grown and emerged into Versoul. The new name originates from her family surname, conjoining the Spanish word 'ver' (to see) and 'soul' as an introduction to a new era of music in the artist's career. She delivers a distinct and unclassified sound influenced by hip hop, rap, rhythm and blues, and alternative rock. As a child, her interest in music grew when she would write poetry that turned into raps, and eventually started recording music at 15 years old.
​
Versoul is releasing her debut album on December 31, 2018, proudly sponsored by Women's Audio Mission, introducing new sounds, emotions, and experiences through the art of soul rap.
​