Thursday
December 13
2018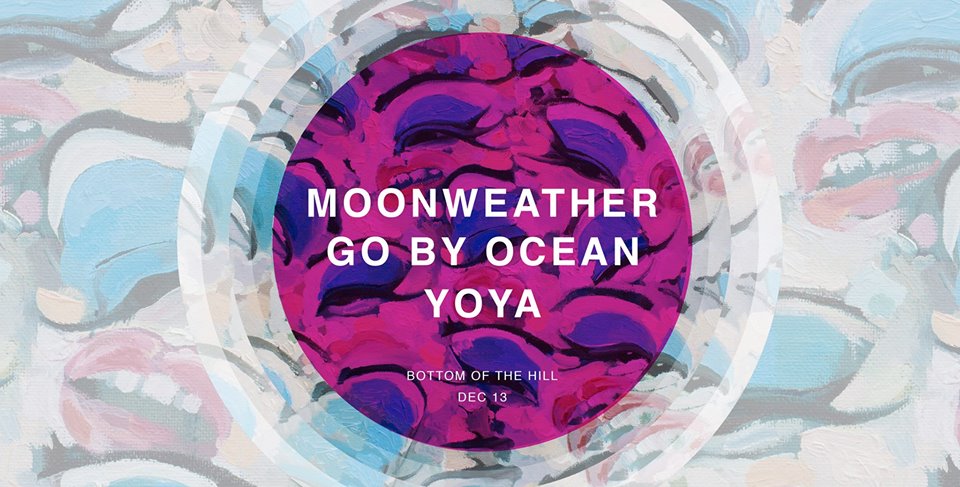 8:30PM

doors -- music at 9:00PM


••• 21 AND OVER




$

12


moonweather
www.facebook.com/moonweather/


alternative psych jazz rock


Go By Ocean
EP release
gobyocean.com/


California Indie Rock


yOya
yoyatheband.com/


folktronic



---

moonweather
Billy Hodge
Colin Hoell
Bobby Burgess
Michael Barlette
-from Cincinnati, OH
-Self-reflective and erratic, Moonweather's new single "Until Later" bubbles forth with frothy, electric energy, hiding thoughtful wistfulness behind cheerful pageantry and reverberant vigor. At only two minutes long, it packs a miniature yet mighty punch, dropping in right away with dynamic vocals, thrumming guitar chordings, light piano harmonies, and vocals that ricochet in and out.

Upon listening, it's readily apparent that Moonweather is a close-knit group. Boasting an extremely collaborative songwriting style wherein band members collaborate equally on virtually all facets of songwriting – lyrics and arrangements included – the song pieces itself together as it progresses into something rambunctious and homogenous and ultimately endearing.

All things together, "Until Later" sees the band trying to fit the mistakes they've made into their lives as they age and self-actualize, foregrounded against a backdrop of shiny surfaces, road trips, and train journeys. Drawn from their forthcoming second full-length album, Overgrown, it's a storied reflection on aging and on problems that seem insignificant on their own, but together compound into bigger issues.





Go By Ocean
Ryan McCaffrey - Vocals, Guitar
Eric DiBerardino - Bass, Vocals
Sean Nelson - Drums
-from San Francisco, CA
-It has been said that "the darkest hour is just before the dawn," and in the case of Ryan McCaffrey, leading member of San Francisco indie rock band Go By Ocean, that dark hour turned into several dark years. As things currently stand, however, we're somewhere around midday. The sun is at its highest and the singer/guitarist is embracing his new life in the light. On Go By Ocean's second full length, McCaffrey and his troupe have harnessed its energy and the aptly titled Sun Machine radiates a message of hope and perseverance.

To make the album, the group blended a traditional live approach with contemporary production to create a densely layered sound, which belies its spontaneous creation, and all arrangement decisions were made during one week-long session at Stinson Beach's Panoramic House studio. At the moment of its creation McCaffrey was healthy and hopeful, and it shows; he entered the studio with one producer, four musicians, and ten songs written on acoustic guitar and vocals, and left with a fully fleshed out and cohesive album that is well summarized by its title.




yOya
alex pfender - vOcals, guitar
noah dietterich - keybOards, vOcals
ian meltzer - percussiOn
-from lOs angeles, CA
-Combining classic folk songwriting with contemporary electronic beats, yOya's latest single "The Heartwood" evokes "a cabin high in grassy hills or a rooftop overlooking a gleaming city," according to Consequence of Sound. The trio has recently shared stages with Bleachers, Moses Sumney, Avi Buffalo and many others.