Sunday January 6
2019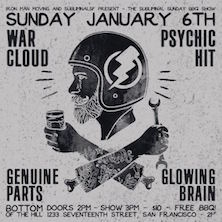 2:00PM

doors -- music at 3:00PM


••• ALL AGES




$

10




Iron Man Moving & Subliminal SF

presents...


"The Subliminal Sunday BBQ"


Afternoon BBQ Show: Free BBQ food!


War Cloud
www.facebook.com/warcloudiscoming


Rock/Metal


Psychic Hit
www.facebook.com/psychichit/


Rock, Hard Rock, Proto-Metal, Rock n Roll, Hard Prog


Genuine Parts
www.facebook.com/GenuinePartsBand/


Rock N' Roll


Glowing Brain
www.facebook.com/glowingbrain/


Punk // Noise Rock // Heavy



---

War Cloud
Alex Wein – Vocals/Guitar
Jesse Serrano – Guitar
Joaquin Ridgell – Drums
Taylor Roach - Bass
-from Oakland, CA
Erupting in 2014, out of Oakland, California, War Cloud has been on a steady path of shredding Northern Californian ear drums. Founder Alex Wein (vocals, guitars), moved across the country to heed the immortal clarion call of the West Coast and wasted zero time in recruiting musicians after firmly planting his amps in the Bay Area. Looking to create an aural ash cloud of volcanic rock, Alex solidified this crew with Bay Area natives Joaquin Ridgell (drums), Jesse Serrano (guitar), and Taylor Roach (bass).
War Cloud may be a young band but they are far from wide-eyed innocents. Their musical history drenched in molten riffs across the timeline of heavy metal, the name alone originates from a Wicked Lady song of the same title. With roots encompassing everything from the modern stoner rock scene by way of classic acts ranging from Led Zeppelin to Angel Witch this is a group who love to dig deep into the beating heart of the underground. War Cloud has created a new flavor of heavy rock music for those enjoying the devilish sounds served up by the likes of Saxon, UFO, Thin Lizzy, and Pentagram.

This is modern metal sophistication dipped deep in '70's heavy fuzz rock.




Psychic Hit
Ariana Jade - vocals, violin, synthesizer
Andrea Genevieve - lead guitar, synthesizer
Jake Palladino - guitar, synthesizer
Melanie Burkett - bass guitar
Justin Divver - drums
-from Oakland, CA
-Imagine a crazy alternative reality where Stevie Nicks held impromptu late night jam sessions with Thin Lizzy. Envision a fantasy world where Judas Priest reinterpreted "Satori Part I" instead of "Diamonds and Rust". If a super fan got hold of these wild recordings and put them on a bootleg mixtape, that might give you an idea of what Psychic Hit's debut demo "Promo 2018" sounds like.

With great ambition, the band revs it to the four corners of the rock universe. The demo opens with a doom-laden power epic, "The Fool", followed by a jaunty hook-infused roller, "Fortune's Wheels". Third in line is a labyrinthian prog-folk turns hard rock epode, "Plateau". And last, but certainly not least, arrives their anthemic stadium ripper, "The Whip". This demo does indeed what it should - it demonstrates the band's formidable songwriting prowess. In an era where genres are rigidly defined, such a sonic array in one recording is extremely rare. Psychic Hit is cleary keen to transmogrify and to break free.

Although their sound is heavily influenced by both 70s greats and rarities, this demo is anything but anachronistic. Like modern contemporaries such as Kadavar, Hot Lunch, and Hällas, Psychic Hit endeavors to recast rock music in their own image, rather than to just simply imitate eras past.




Genuine Parts
Dani Agnew: Lead Vocals + Guitar
Erin: Bass
Rosie Gonce: Drums
Analisa Six: Guitar + Vocals
-from Oakland, CA


-"Formed in 2014 by four Bay Area women united by a love of rock n' roll, motorcycles, and the open road, Genuine Parts chew up the garage sound and spit it back out with heavy riffs and blaring guitar leads. While the band cites KISS, Girlschool and The Stooges as some of their their biggest influences, their sound is uniquely their own. Fresh off the release of their first single, the band's second EP cassette released on Southpaw Records shows the band going in a heavier direction. Stay tuned because there is a lot more to come from Genuine Parts."






Glowing Brain
Conrad, Doc, James
-from Oakland, CA


-Full stacks, 12 packs, denim and lots of hair. Oakland's Glowing Brain plays ripping noise rock that is equal parts heavy and heady. Old gear, cold beer.