Saturday January 12
2019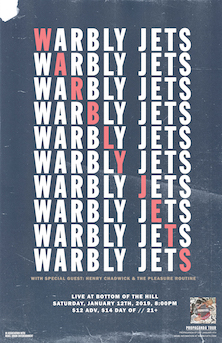 8:30PM

doors -- music at 9:00PM


••• 21 AND OVER




$

12

in advance

/ $14

at the door
Warbly Jets
warblyjets.com/


Rock 'n' Roll


Henry Chadwick
www.henrychadwick.net/


Indie Rock


The Pleasure Routine
www.facebook.com/p.routine/


Indie Rock



---

Warbly Jets
Samuel Shea, Julien O'neill,
Dan Gerbang, Ethan Snyder
-from Los Angeles, CA
-This time last year, American rock trio Warbly Jets were gearing up to release their debut LP—a demanding and ambitious labor of love born from thousands of red-eyed hours in the studio and thousands of miles on the road. Coming from three opposite points of the country, Samuel Shea (vox and guitar), Julien O'neill (multi-instrumentalist), and Dan Gerbang (bass) ultimately converged on the star-lined streets of Los Angeles. The gold-flaked promises and industry buzz that the band's impressive sound and striking persona were swiftly met with, often left a sour taste—resulting in the quiet determination and staunchly independent approach that still remains at the core of the band.

Writing, recording, producing, and releasing every note themselves, the album served as both a master class and proving ground for Warbly Jets. And while the band was largely unsettled creatively—and geographically—during the process there remained an undeniable gut feeling that they were on the right track. That feeling was quickly validated, as support from outlets like Flaunt, Brooklyn Vegan, Indie Shuffle, LA Record, and Rolling Stone France came along with a swift climb up the streaming charts and plays on Sirius XMU and Beats1.

Warbly Jets reverberates with the juiced-up energy of laying it all on the line—and succeeding. It's there in the anthemic release of "Alive," in the leather-clad prowl of "Fast Change," and in the snarling industry callout of "The Lowdown." The rest of the album hedges no bets, mixing and layering everything from strings and synths to breakbeats, with massive riffs and Shea's commanding delivery—a noble contribution to bringing the concept of the American rock band into the modern era.

With opening slots for Liam Gallagher, Rival Sons, Mystery Lights, and Night Beats—as well as international headlining tours of their own in Europe and China—the band has spent the last year largely on the road—returning home with newfound experience, stamina, and perspective. Since then, Warbly Jets have released two new singles, the Amazon Exclusive "Between The Lines" and "Inhuman Emotion," and are currently entering the studio to record their next release—due out later this year.





Henry Chadwick
Henry Chadwick
Zach Scott
Eddie Curzon
Anders Cochran
-from Santa Cruz, CA


-

In late 2017 Henry Chadwick entered the studio with producer Rob Schnapf (Elliott Smith, Beck, Kurt Vile etc.) and engineer, Brian Rosemeyer (Kurt Vile, Cass McCombs, Surfer Blood etc.), and emerged with Henry's most personal and ambitious effort to date. Chadwick acted as a multi-instrumentalist again, playing drums, guitar, bass and keys on the record. The 11-song album (due out in the 2nd half of 2018) is named Marlin Fisher, after Henry's two middle names. Marlin Fisher has received praise from the likes of Rolling Stone, No Depression and more.

Chadwick's self-produced and released 2016 debut EP, Guest At Home, first showcased his skills as a writer, engineer, mixer and performer. The EP garnered attention from prominent blogs and outlets such as Rolling Stone, Time, Huffington Post, Indie Shuffle and others. Rolling Stone and Time Magazine listed it as one of the best albums to come out in the first half of 2016.

Dancing between genres and landing somewhere between indie, garage rock, psychedelia and shimmery, sunshine-tinged power-pop, Henry picks up where he left off and moves across plenty of new terrain on this personal and ambitious full-length debut.





The Pleasure Routine
Kevin Sofsrud - Lead vocals, guitar
Nathan Tang - Lead Guitar, Vocals
Michael Srouji - Bass
Robert Pruett- Drums
Carolyn Chen - Keys
-from Oakland, CA
-More than just a combination of guitars, a bass, keys, and drums, along with the occasional harmonica and tambourine, The Pleasure Routine captures a sound – much like The Velvet Underground, The Brian Jonestown Massacre, and Nick Cave & the Bad Seeds before them – that is conflicted between optimism, realism, doom and darkness, as evidenced on their 2016 debut LP Sugar Mountain. Feverishly gigging around the Bay Area, The Pleasure Routine gained the attention of Ricky Maymi (The Brian Jonestown Massacre), who produced the sessions for Sugar Mountain, along with engineer Greg Ashley (Gris Gris). The collaboration proved integral to the development of the group, as Maymi helped The Pleasure Routine refine its sound. It also opened the doors to support more established acts like Palma Violets, Public Access T.V., and China's Carsick Cars. In 2018 The Pleasure Routine completed their first UK tour and are now recording new material..