Sunday January 13
2019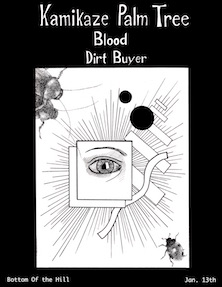 8:00PM

doors -- music at 8:30PM


••• ALL AGES




$

10


Kamikaze Palm Tree
www.facebook.com/kamikazepalmtree/


Noise/ Surf/ Psych Rock


Blood


from SF




punk


Dirt Buyer
dirtbuyer.bandcamp.com/releases


emo lofi



---

Kamikaze Palm Tree
Cole Berliner and Dylan Hadley
-from San Francisco, CA


-Kamikaze Palm Tree is an experimental rock duo originating in San Francisco, California. They explore many different musical styles and have sounds anywhere from slow psychedelic noise, surf rock, to loud embracive rock. Kamikaze's high energy music lends the ability to have bombastic and theatrical performances, involving wearing masks and audience participation.






Blood


-from San Francisco, CA




-BLOOD is a two piece from Oakland that incorporates elements of noise, punk and performance art. Eli is a 6yo vampire attending kindergarten in Oakland who plays synthesizer and sings. He enjoys Sonic the hedgehog and killing werewolves. Mikey is a 36yo werewolf who plays bass. He enjoys obscure horror films and dying on stage. They will melt your face and give you nightmares, dig it.






Dirt Buyer


-from Louisville, KY




-

Dirt Buyer is a three piece emo-folk band hailing from the Western Hemisphere. What started as an attempted two piece noise-pop project between drummer/producer Orange S and Guitarist/Vocalist Jackson Sharpe accidentally cracked apart and crumbled, revealing an even more beautiful and personal project that would soon become Dirt Buyer. Joined by bassist Sadie Delgado, the trio is set to release their debut through Danger Collective Records in January of 2019.