Tuesday January 15 2019
8:30PM

doors -- music at 9:00PM
••• 21 AND OVER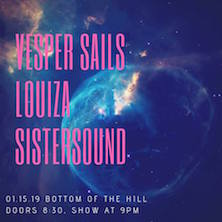 $

10


Vesper Sails
www.facebook.com/vespersailsband/


Prog-pop


Louiza
www.louizaband.com/


indie art rock


Sistersound
sistersound.com/


post-punk, experimental rock




---

Vesper Sails
Marshall Hattersley, Evan Kaiser, Ian Harshman, David Adamiak
-from San Francisco, CA
-Imagine if Thom Yorke and St. Vincent played a show with This Town Needs Guns, except Danny Carey was subbing on drums, Joni Mitchell sang guest vocal, and you're traveling underwater, like a manatee.

Ever since their inception in the forests of Santa Cruz, California, Vesper Sails has been blending delicate dynamics with odd-time insanity, heavy riffs with pop sensibility, and jazz with rock experiments. We are inspired by things that are bigger than us.




Louiza


-from Oakland, CA


-Born in San Francisco, Rebecca Mimiaga studied music at The NewSchool for Jazz and Contemporary Music in New York City. The Summer before, she took an internship at a Chelsea recording studio and moved into a small room in the East Village. With few friends and only a handful of music venues she was allowed in, Rebecca around over Manhattan and wrote lyrics. Building a diary in songs, she explored emotions with two voices: one introspective/acoustic; one electric/outward-looking. She continued to perform both styles in an ever-widening range of NYC bars and coffeehouses.

In 2014, she teamed up with orchestrator, producer Maxim Moston to record Words in the Dark – a highly-personal work for voice, piano and orchestral instruments. In the same year, she built a rock band under the guise, LOUIZA. In 2015, she left NYC for Oakland and, within a year, began recording Party Trick at Tiny Telephone in San Francisco. The album introduced LOUIZA with aggressive, minimalist songs with a pop sensibility. Currently, Rebecca is writing her second LOUIZA album while under the influence of West African music.




Sistersound
Vocals, Guitar: Eve
Drums: Ronnie
Bass: Malcolm
-from Richmond, VA/San Francisco, CA
-Sistersound was born in 1992, when singer-songwriter Eve began writing music on his first guitar, a Stratocaster knock-off that he bought from a college friend for $50, and recording on a 4-track cassette recorder. Over the decades, the band has featured a slew of talented accompanying musicians on bass guitar and drums, including (in order of appearance): David Garrett, Michael Lujan, Jeff McElroy, Robbie, Pete Grothey, Ian Kruske, Chris Gallo, Sean Mou-Keefe, Attiss Ngo, Ronnie Matatquin, and Malcolm Posey. Sistersound, in its various incarnations, has subsequently recorded several albums-worth of material, which has remained in relative obscurity, only known to fellow musician, friends, and fans who have given crucial support to Eve and members of Sistersound for over 20 years.

Eve continues to write and record music, with intentions to master and release the recordings; evidence of the craft and hard work that's been poured lovingly into the project by all the members of Sistersound.