Thursday January 17
2019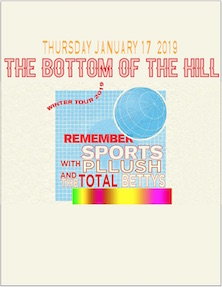 8:30PM

doors -- music at 9:00PM


••• ALL AGES




$

12


Remember Sports
www.facebook.com/remembersportsband/


Punk Powerpop


Pllush
www.facebook.com/thisispllush


indie rock


The Total Bettys
www.facebook.com/thetotalbettys/


pop punk



---

Remember Sports
Misses Carm & Cathro, Jacko, Conman
-from Philadelphia, PA
-Basement rock band, Remember Sports has reunited in Philadelphia, after completing college in the place where it all started for them — Gambier, Ohio. Forming in 2012, the band's first official recordings began as a collection of demo songs recorded for Kenyon College radio station, WKCO. The demos were late redone to become their first official album, Sunchokes which was released in the spring of 2014.

After a period of touring beyond the Buckeye State, Remember Sports went on to release their second album, All of Something in the fall of 2015 on Father/Daughter Records. The release was recorded in Philadelphia alongside noted DIY producer and musician Kyle Gilbride (Waxahatchee, Girlpool, Swearin'), and featured a fuller sound for the band. The album received critical acclaim, with Rolling Stone calling it "full of sharp, sweet insight and heart-tugging hooks."

Nearly two years since the release of All of Something and Remember Sports is making their return with a 7" split alongside Father/Daughter label mates, PLUSH, out on Oct. 20. The split features members Carmen Perry (vocals and guitar), Jack Washburn (guitar and vocals), Catherine Dwyer (bass) and Benji Dossetter (drums). Singles, "Making It Right" and "Calling Out" are punched up, energetic moments of sincerity, with Remember Sports taking the innermost emotions that others are keen to keep rolling about in their heads and hearts and putting them to song. Fuzzy, earnest and declarative, these singles are the perfect way to hold fans over as Remember Sports continues work on future new material.




Pllush
Stan
E
Karl
Dyl
-from San Francisco, CA
-An exciting new sound grips the Bay Area's music scene as Pllush pushes the bounds of genre and style. Pllush is a four-piece originating from San Francisco, with members of local SF legends The She's. While their debut LP, Pine, is a beautiful combination of surf-rock and shoe gaze, their auspicious new release, Please, encapsulates a completely different tone, both sonically and lyrically. Lush and warm, it has cinematic quality which suggests, somehow, that each track takes place in a different climate. With the angular and ethereal falsetto of Karli Helm contrasted by the hypnotic and unwavering voice of Eva Treadway, Please echoes a melancholic honesty that captures the album's heart-breaking, yet insightful versatility, deriving from both Wowee Zowee era Pavement and Painful era Yo La Tengo. Sonically, the album embraces twinkling guitar tones that are blitzed with spurts of grainy fuzz, flaringly precise and graceful drums, as well as complimentary bass riffs that swirl and swoon each track, working in unison to pin-point these heart-wrenching emotions with clarity and catharsis. After sharing the stage with bands such as Ceremony, All Dogs, Ducktails, Sales and Creative Adult, they have proven their ability to blend seamlessly into wherever they may end up.





The Total Bettys
Maggie (she/her), Reese (they/them),
Chloé (she/her), Kayla (she/her)
-from San Francisco, CA


-The Total Bettys are a pop punk band from San Francisco. Maggie, Bri, Anthony and Chris started writing together in 2015, and they instantly became best buds.. Their debut EP Connect with the Couch features fun, upbeat pop punk energy with witty, self-deprecating lyrics.