Saturday January 19
2019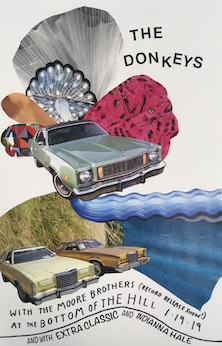 8:30PM

doors -- music at 9:00PM


••• 21 AND OVER




$

17

in advance

/ $20

at the door
The Donkeys
www.donkeysongs.com/


Indie rock


The Moore Brothers
www.themoorebros.com/shows/


(Record release)




Pop


Extra Classic
www.facebook.com/extraclassic/


psychedelic rock and roll


Indianna Hale
www.facebook.com/Indianna-Hale-175069794639/


Folk / Country / Soul




---

The Donkeys
Sam Sprague
Tim DeNardo
Anthony Lukens
-from San Diego, CA
-"...there is no culture in California, only trash." – Philip K. Dick

In early 2018, California trio the Donkeys, made up of Tim Denardo, Anthony Lukens, and Sam Sprague, found a notebook in an Adventureland trash can at Disneyland. Waterlogged and covered in churro dust, the book turned out to contain whole worlds, flights of teenage science fiction fantasy. Those half-finished wasteland musings inform the Los Angeles/San Diego trio's fifth album, an apocalyptic surf saga, an endless irradiated summer: Sun Damaged Youth.

Part lost radio transmission, part interplanetary concept album, the record takes its cues from classic FM compilations and surf records, interspersing the Donkey's signature choogling pop with deejay banter and reverb-drenched instrumentals. Part The Lonely Surfer, part Music from Big Pink, the LP channels the feverish energy of found object outsider art, paying homage to the classic West Coast melodicism of the Beach Boys and the Grateful Dead with the California skate and surf punk of the late '70s and '80s. Adopting a series of fictional surf band guises – the Coffin Nails, the Savage Detectives, the Divine Invasions – the band plays in the weird space between fact and fiction, conjuring up a series of true stories, some of which might have actually happened, and many which probably didn't. It represents a demarcation point for the band, reconciling the grown-ass responsibilities of its members navigating marriage and fatherhood with the sunbaked enthusiasms of young adulthood. "Watching the bills just pile up/Oh man, I think I've had enough," sings Denardo on "We Are All So Young," balancing sun-shiny pop with the bittersweet recognition that you gotta grow up, like it or not.

Sun Damaged Youth was recorded over the course of a year by Denardo, Lukens, and Sprague with engineer Jason Quever of Papercuts, who produced the band's 2004 self-titled debut. Following a string of releases on Dead Oceans (Living on the Other Side (2008), Born With Stripes (2011)) and Easy Sound Recording Company (Ride the Black Wave (2014), 2016's Midnight Palms), it's the band's first self-released effort, the inaugural release by the band's own Flop Records imprint. Founded in 2003, the Donkeys have spent much of the last decade and a half on the road with bands like the Hold Steady, Magnolia Electric Company, Deerhoof, Cass McCombs and others. In 2009, the band provided the music for Geronimo Jackson, a fictional band featured on the science fiction drama LOST. Since forming, the band has collaborated on stage and in the studio with Hold Steady guitarist Steve Selvidge, Jason Begin of Vytear and Octagrape, and producer Thom Monahan (Vetiver, Fruit Bats, Devendra Banhart).


The first 500 vinyl copies of Sun Damaged Youth come packaged with a recreation of the inspirational found notebook. Like the band's cross-genre sound – equal parts Paisley Underground psychedelia, rustic folk, and warbled surf – the record blurs the lines between fantasy and fact. In its sun-warped grooves, "Kool Kids" make it in spite of themselves, stoned teenaged "Summer's Dreams" maturing into something worth holding on to forever. Here come the waves.





The Moore Brothers
Greg Moore, Thom Moore
-from Altadena, CA


-Since releasing Murdered By The Moore Brothers (2006) the brothers continue to perform for their small but ever increasing following in the California Bay Area. Luckily an assortment of more successful artists began introducing the Moore's to a broader audience. In December 2006 Kristin Hersh hand-picked the Moore Brothers to open for a Throwing Muses reunion concert at the Great American Music Hall. In the Summer of 2007, Joanna Newsom invited the brothers to appear with her at a string of European venues, including a night at the Royal Albert Hall warming the crowd for Joanna and legendary British folkie Roy Harper. Recently, Thom and Greg relocated to Grass Valley, Ca, where they are busy writing songs for their sixth release, tentatively titled Who Are The Moore Brothers?






Extra Classic
Adrianne deLanda / Alex deLanda / Aaron Deer / Josh Miller / Michael Jirkovsky
-from San Francisco, CA
-Biography
L.A. RECORD: "…like the Cramps, these guys have taken all their favorite sounds and combined them into something new and balls-out trippy…as if someone had kidnapped a chanteuse from Pentangle…and propped her up in front and then had them tour the Congo."

Pennyblack (www.pennyblackmusic.co.uk): "Emotive, and done with so much dedication and devotion to old reggae, may appeal to those who enjoy the music of the mid 1970s from acts such as Big Star and Dwight Twilley."

Thrasher Magazine Extra Classic Feature Interview (April 2012): "Often times there are good reasons for doing things the hard way, like recording an album all-analog and mixing it by hand…"

Extra Classic is a band based out of San Francisco, CA. Recording in their analog studio in San Francisco, lead songwriters, Alex and Adrianne deLanda, formed Extra Classic based on their mutual love of classic Jamaican dub and psychedelic rock and roll. After self-releasing their own 45rpm vinyl singles, the Roots/Psychedelic inspired debut Extra Classic full-length album, "Your Light Like White Lightning, Your Light Like A Laser Beam," was released by Burger Records in 2012 on cassette (currently sold out). Manimal Vinyl (Los Angeles, CA) released the album on gatefold vinyl LP format.




Indianna Hale
-fromSan Francisco, CA


-all i know is i am supposed to play the muisic!!