Friday January 25
2019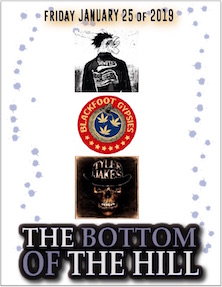 8:30PM

doors -- music at 9:00PM


••• 21 AND OVER




$

12

in advance

/ $15

at the door
The Yawpers
www.bloodshotrecords.com/artist/yawpers


Punk Country Folk-Americana Bluegrass


Blackfoot Gypsies
www.blackfootgypsies.com/


rock, hillbilly and blues


Tyler Jakes
www.tylerjakes.com/


...



---

The Yawpers
Nate Cook, Jesse Parmet, Alex Koshak
-from Denver, CO
-The Yawpers craft tunes that are engrossed in creative context. Some might recall edges of the mid-1900s Delta blues, but only if those lived-in riffs were played by the MC5, broadcast through booming stadium speakers and drenched with pounds of fuzzy distortion and full-throttled punk rock energy. They conduct parallel frequencies with the ferocious and raw proletarian roots of Uncle Tupelo, the burning-hot thrashings and cavernous sonic space of Hot Snakes, and mix in derisive scrutiny that brings to mind Ween or the Minutemen (and might we add that Cook is the spitting image of D. Boon).

The Yawpers' third album Boy in a Well is a sensational tragedy set in World War I France about a mother abandoning her unwanted newborn child. But, like the band itself, there's so much more roiling beneath the surface.

Recorded in Chicago by Alex Hall (JD McPherson, Pokey LaFarge, The Cactus Blossoms, The Flat Five) at Reliable Recordings and produced (with instrumental contributions) by Tommy Stinson (The Replacements, Bash & Pop), Boy in a Well stretches The Yawpers' sound and ambition in challenging, impassioned, and dynamic directions. To follow up their 2015 Bloodshot debut American Man — which Rolling Stone described as mixing "high-brow smarts with down-home stomp" — the trio left the comfort zone of their Denver hometown in September 2016 to record in a city they'd only briefly visited before.

The story-vision was initially conjured by lead singer Nate Cook, after a reckless combination of alcohol, half a bottle of Dramamine, and an early morning flight. The delusional result is an album of complete immersion and instinct, with personal background (the story removes shrapnel embedded from Cook's failed marriage) meeting psychological fascinations (German realpolitik, Freud, Oedipus, and the lasting social and cultural fallout of WWI… you know, the usual rock 'n' roll stuff). Structured, composed songwriting from the band's freakishly tight backbone — guitar prodigy Jesse Parmet and former drummer Noah Shomberg — blend with the impulsiveness of their wild-eyed, punk-reincarnation-of-Elvis frontman.

Boy in a Well sounds like Alan Lomax using his field recorder to capture Mance Lipscomb ripping a laced joint (or something much more potent) with The Cramps and strapping their instruments on to let that shit fly. But while the band dials into the finest, frenetic trucker-speed induced scuzz blues, there is patience and dark soul within and between songs much like the blank space between paragraphs and chapters. Each track is a division of the plot — paired visually with an accompanying comic book, illustrated by J.D. Wilkes of The Legendary Shack Shakers — that seamlessly blends into the next.

Also released in 2017 was a 7" single featuring "Mon Dieu" from Boy in a Well and a new recording of a Yawpers live show calling card, their manic cover of Motörhead's "Ace of Spades." The band has previously released two full length-albums (their Bloodshot debut American Man and the 2012 self-released album Capon Crusade), a self-released EP (Savage Blue), and a bootleg covers record (Good Songs/Shitty Versions). The band's music has been praised by publications like Rolling Stone, The New York Times, The AV Club, Consequence of Sound, Nerdist, and American Songwriter, and has taken the stage with Lucero, Tommy Stinson's Bash & Pop, DeVotchka, Supersuckers, The Blasters, and more. In 2015, they were the house band at TEDx Kansas City and soundtracked an episode of Bill Weir's The Wonder List on CNN — the episode was about the Colorado River.

The Yawpers formed in 2011 when Parmet and Cook played together at the only speakeasy in Boulder, CO. In August 2018, the band announced that Alex Koshak would be stepping in on drums as they headed into the studio to record their next album, expected in 2019. The band's name is a nod to Walt Whitman's "Leaves of Grass": "I sound my barbaric yawp over the roofs of the world."
-




Blackfoot Gypsies


-from Nashville, TN


-The Blackfoot Gypsies have unleashed a set of original roadhouse rockin' tunes with To the Top, on Plowboy Records. The Nashville, Tennessee based powerhouse quartet demonstrate raucous energy and soul on this collection delivering their take on white-knuckled rock'n'roll.

Across the 15 tracks of To the Top, the Blackfoot Gypsies fuse their influences -- swamp blues cool, downhome hillbilly funk and homegrown punk panache -- into a lean, mean machine invoking such classic musical malcontents as the Rolling Stones, the Faces and Mott the Hoople, while sparking and spitting 21st-century fire. It's the type of record that could only come from a band that learned to rock the old-fashioned way -- one sweaty, full-throttle live performance at a time.

The band's brew of rock, hillbilly and blues began in 2010 when Oregon native, guitarist and singer Matthew Paige moved to Nashville and hooked up with drummer and Music City native Zack Murphy. The pair wanted to form a full band, but the urge to rock could not wait.

"We were doing just what we wanted to do," Paige says, "but making enough noise to fill out the sound was a challenge. I started playing through two amps to make the most sound."

The pair spent the next two years building a reputation through raucous live performances and two self-released EPs, Blackfoot Gypsies (2010) and Dandee Cheeseball (2011), and their first LP, On the Loose (2012). Hard touring followed the album's release as the duo bashed across the US through hard-won club dates. After three years, they were ready to expand their sound.

"There's really only so much you can do with a two-piece," Murphy says. "You have to do everything in extreme. I think we were too much for some people -- just a violent onslaught of noise."

They soon completed their expanded line-up when bass player Dylan Whitlow and harmonica master extraordinaire Ollie Dogg arrived within weeks of each other. Whitlow, a Gettysburg, Pennsylvania native and a veteran of several Nashville rock bands, had crossed paths with Paige and Murphy before, but Nashville native Ollie Dogg was new to the rock 'n' roll scene. He was a longtime veteran of Nashville's blues community and a regular at many blues jams, but joining a band full time was a new experience.

"My cousin told me about the band," Ollie Dogg says. "I met them a couple of weeks later, and played with them. They just told me to be loose. That's how I like to play, loose -- just take it and make it work. I've been playing with them ever since."

With the line-up complete, they entered the studio and laid down ten tracks of butt-shakin' country-blues rock. Released in April 2015 by Plowboy Records, Handle It delivered a mix of juke joint blues, front porch pickin' and snotty-nosed rock 'n' roll, positioning the group as inheritors of a fine pedigree, from Bo Diddley to the Black Crowes. Long nights tearing up the road followed as the band shared bills with the Alabama Shakes, Drivin' N' Cryin', the Carolina Chocolate Drops, Trampled by Turtles and many others. They toured throughout the US and wowed European audiences on their first international tour.

After sharpening their sound through hundreds of live performances, the band headed for Electric Kite Studio in Madison, Tennessee. Working with engineer Matt Stager and armed with 15 original tunes, the Blackfoot Gypsies self-produced their new album, To the Top. They also recruited some notable musical assistance from some of Nashville's finest musicians, including backup vocals from red-hot country queen Margo Price, Spencer Cullum, Jr. (Steelism) on steel guitar, Micah Hulscher on piano, Alexis Saski on background vocals, Taylor Powell and Shannon Pollard assisting on drums, and Paul Thacker, Diego Vasquez and Joe Hunter supplying horn section support. The album was mixed by Joe Funderburk at Creative Workshop.

To the Top wastes no time making it perfectly clear that the Blackfoot Gypsies are locked and loaded to rock. The album opens with a powerful statement of purpose in a trio of pedal-to-the-metal rockers. "I'm So Blue," "Everybody's Watching" and "Promise to Keep" all roar with an explosive energy worthy of the early ' 70s Rolling Stones or the Faces, while demonstrating that the Blackfoot Gypsies wear their inspirations on their sleeves without falling into the trap of pointless imitation.

The band slows things down a bit with "Potatoes and Whiskey," a rough -- cut slice of honky-tonk featuring Margo Price on backing vocals. Next they hop on a sanctified express train for the balling-the-jack anthem "I Had a Vision," followed by the Big Easy groove of "Back to New Orleans," a song perfect for second-line dancing anytime or anyplace.

Hitting their stride midway through the record, the Blackfoot Gypsies alternate rockers ("Lying Through Your Teeth," "I Wanna Be Famous," "She Was Mine" and "Warning") with songs demonstrating the band's versatility, with the hillbilly swing of "Velvet Low Down Blues," the Dylan-esque country ruckus of "Woman Woman" and the sublime juke joint jam of "I Got the Blues."

Wrapping up with the primal kick and Bo Diddley beat of "Gypsy Queen" and the lightly glam-seasoned back-to-basics haymaker "Why Should I Try," the disc is a complex and masterful blend of rock, blues and hillbilly stomp sure to please the most discriminating palate and send the most reluctant feet to the dance floor.





Tyler Jakes


-from Oakland, CA




-Tyler Jakes is an independent singer-songwriter with an eclectic variety of influences ranging from garage rock to folk to punk to blues. Sonic Abuse called Jakes "...an astonishingly accomplished musician who revels not so much in virtuoso self-indulgence as in writing tunes which resonate heart and soul with the listener." His music has appeared on TV shows such as Deadliest Catch and Survivor, and his songs have charted multiple times in the Top 20 on U.S. terrestrial radio stations.