Sunday January 27
2019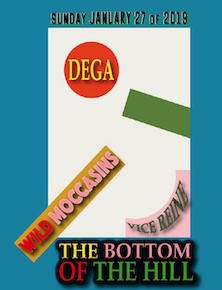 8:00PM

doors -- music at 8:30PM


••• ALL AGES




$

12

in advance

/ $14

at the door
DEGA
www.dega.band/


Indie Pop


Wild Moccasins
www.wildmoccasins.net/


Indie Pop


Vice Reine
vicereinemusic.com/


cyberpunk, space funk, new rave, new disco



---

DEGA
Aslyn and Kalen
-from Athens, GA/Joshua Tree, CA
-Seasoned musicians Aslyn and Kalen Nash were well into their own solo careers prior to meeting and romancing. Aslyn had notched two records, Lemon Love (Capitol Records) and The Dandelion Sessions, while also landing a spot as touring keyboardist and backup singer for Kesha. Kalen, singer-guitarist for Athens, GA, indie psych rockers Ponderosa, eventually saw his band signed to New West Records for whom he recorded two critically acclaimed records, Moonlight Revival and Pool Party, with legendary producers Joe Chiccarelli (The Strokes, Real Estate, Cherry Glazerr) and Dave Fridmann (Tame Impala, MGMT, Flaming Lips), respectively.
The husband-and-wife team met and married 3 years later, but were so busy with their own projects they hadn't really considered making music together. Eventually, the loneliness of the road led them to consider a different path. So they formed DEGA, a place where they could shed any preconceived notions about their past work (Kalen's charmingly melancholic Southern indie psych rock, and Aslyn's infectious blend of folk & piano pop) and explore new sounds—in particular, anthemic, synth-anchored indie pop. The combination of their two talents is truly a beautiful marriage of styles. "The merging of our ideas created something very different from what either one of us was doing on our own," Kalen says. "So it was kind of like creating a whole new identity."
DEGA's self-titled debut (released in 2018 on Lemonade Records) is comprised of nine ethereal —and somewhat surreal—tracks that tell the story of the couple's personal journey, along which they've encountered some spectacular highs and crushing lows.






Wild Moccasins
Zahira Gutierrez
Cody Swann
Nicholas Cody
Avery Paul Davis
-from Houston, TX
-Fronted by Zahira Gutierrez (vocals/keyboard) and Cody Swann (guitar/vocals), Wild Moccasins' forthcoming third full-length serves as a new beginning for the group. Look Together tackles themes of repairing relationships, shedding insecurities, and fresh starts, with vibrant guitar/synth lines layered under Gutierrez's pop melodies. The impassioned 12-track LP began to form merely a week after the release of 2014's 88 92, as Gutierrez and Swann's decade-long romantic relationship dissolved.
Healing proved to be difficult, as Wild Moccasins were charted for two years of extensive touring. Gutierrez and Swann would spend countless hours in a shared van, painfully staring each other down on stage and exchanging exaggerated he- said-she-said's through songwriting.
Gutierrez and Swann began their writing partnership roughly a year into their romantic relationship, in 2007. The group has undergone roster changes over the years, but currently exists with the addition of Avery Davis (drums) and original member Nicholas Cody (bass). Their latest effort is highly pop-powered, with Ben H. Allen (Gnarls Barkley, Deerhunter, Animal Collective) at the production helm. The result is a diverse album that blends guitar-driven elements of Wild Moccasins' early discography with expansive electronic and '80s/'90s pop components, culminating as a resilient break-up record co-written by exes who chose to reconcile their differences the only way they knew how – working towards a common musical goal.





Vice Reine
Remi X
DJ EJ
CJ DeMarx
-from San Francisco, CA


-Vice Reine is an SF electronic band that melds synthpop, electroclash, & sci-fi into an exciting live show that glides the line between OUTER SPACE & IN YOUR FACE.