Thursday January 31 2019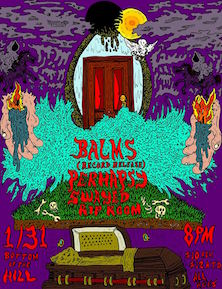 8:00PM

doors -- music at 8:20PM

•••

ALL AGES




$

10

in advance

/ $12

at the door
Balms

(Record Release)


balmsmusic.com/


Alternative / Grunge / Shoegaze


Perhapsy
www.facebook.com/perhapsymusic/


Experimental Pop


Swayed
www


...


Rip Room
riproom.com/


art punks
---

Balms


(Record Release)


jared // michael // john
-from San Francisco, CA
-Balms' "Candle" unleashes an atmospheric bummer — the kind that billows ominously, only to reveal a dark scene once the shroud has dissipated. The San Francisco trio alternates chunky riffs and a plodding rhythm section with dreamy melodies, sudden screams and a voice that coos, "I want your soul." The forbidding effect is something like early Red House Painters' pretty moans set to the downcast punk seething of ...And You Will Know Us By the Trail of Dead.

After a series of singles and an EP, "Candle" appears on Balms' self-released debut, Mirror, which the band describes in a press release as a "double-sided concept album":

The album's narrative is a journey-of-self; an exploration confronting the shadow-aspect of the soul. That being said, the only two characters in this story are the Self and the Shadow. With this comes the introverted drama and solitude of the ego. And while this was a source of contention for us in terms of perception, it is our genuine hope that this album can exist as a place of reconciliation, revitalization and growth. It is a place that has been built for you because we had to make it and to make it the best we can.

If the sinister "Candle" comes near the end of this journey, we're gonna need a light.

- Lars Gotrich, NPR All Songs Considered.






Perhapsy


-from Oakland, CA


-Perhapsy is the solo project of musician/graphic-artist Derek Barber, guitarist and songwriter of Bay Area-based groups Curls (Christopher Owens of Girls), Astronauts, etc., Bells Atlas, and Madeline Kenney.

Although he's lived in California for several years, Perhapsy's Derek Barber is a midwesterner at heart. Beneath the layered, post-rock guitar textures and driving drum beats on The, Perhapsy's latest EP, lays a sweetness and sincerity that belies Barber's Mansfield, Ohio origins. The music on this EP is nostalgic, not in the regressive, unimaginative sense of cultural nostalgia — plundering the stylistic tendencies of the past — but in the more personal sense: a genuine, aching looking back into one's own past experiences and emotions. This nostalgia, derived from the lyrics and Barber's soft vocals, lays under a bed of shimmering guitars.

Aside from his work as the frontman for Perhapsy, Barber is rightfully acclaimed for his guitar playing with Madeline Kenney, Bells Atlas, and Astronauts, etc. As such, the guitars on The are the EP's most distinctive feature. They chime on the spirited "Baptism '89"; rise and fall over a pulsing bed of bass and drum machine claps on the lush, foggy "Forward/Back"; pierce through the haze of "Where Is Your Home?"; ring on "O, Su Yung", a driving, post-punk ghost story; and swell and roar on the cover of Grouper's "Heavy Water (I'd Rather Be Sleeping)". The lyrics on the chorus of this last tune sum up the overall affect of the EP: "Oh dreams I'm moving through heavy water / The love is enormous / It's lifting me up / I'd rather be sleeping / I'd rather fall into tidal waves / Right where the deepest currents flow." In Civilization and Its Discontents, Freud writes of the "oceanic feeling": a primitive sensation of oneness with the universe. With its midwestern sweetness and its varied, fuzzy guitar textures, The evokes this same feeling.

- Chris Alarie




Swayed


-




-






Rip Room
John Reed, Sarah McKinney, Gracie Malley
-from San Francisco, CA


-Wound-up art punks. Nasty riffs, dark vocal harmonies and bombastic drumming.