Tuesday
February 5
2019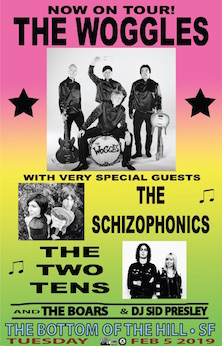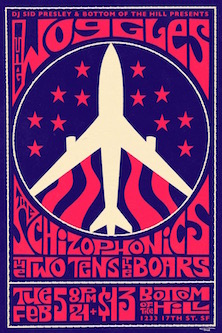 8:00PM

doors -- music at 8:30PM


••• 21 AND OVER




$

13


The Woggles
www.thewoggles.com/


Rock & Roll


The Schizophonics
schizophonics.com/


Fuzz rock, psychedelic, Heavy soul


The Two Tens
www.thetwotens.com/


Garage Punk | Powerpop | Alt Rock


The Boars
www.facebook.com/theboarssf/


60's Garage/Frat/Psych


DJ Sid Presley
www.facebook.com/DjSidPresley/


DJ



---

The Woggles
Buzz Hagstrom-thumper
Flesh Hammer-picker
The Professor Mighty Manfred-wailer
Dan Eletxro-beater
-from Atlanta, GA
- THE WOGGLES – TALLY HO!
For a band to not only last 30 years together but keep scaling more imposing heights, it's going to need a sense of purpose. In the case of The Woggles, the seasoned garage rockers are greeting the milestone with a renewed rallying cry to move ever forward, a three-syllable statement of intent which also serves as the title of their new album on Wicked Cool Records, Tally Ho!
"Tally-ho" is the traditional call of the British hunter upon seeing a fox. This distinctive exclamation serves as a mission statement, then, for a band eager to go forth and conquer. "The band is not as much an institution as a way of life," says frontman "The Professor" Mighty Manfred. "The main thing is to keep swimming, since the shark that fails to swim dies."
Suited up and riding shotgun on the hunt alongside Manfred are guitarist Flesh Hammer -- who first cut his teeth with '80s buzz band Guadalcanal Diary -- and the sock-it-to-them rhythm section of bassist Buzz Hagstrom and drummer Dan Eletxro, both also sometime members of savage English rockers Graham Day & The Gaolers.
"One of our strengths is that all the members contribute songs and song ideas," notes Manfred. "On Tally Ho!, Dan and Buzz both have songs that Little Steven picked as singles from the album, 'What You Think We Are' and 'Waiting For The Rain,' respectively."
"Alan Freed once said that 'Rock and roll is a river of music that has absorbed many streams,'" quotes Manfred. "The Woggles drink from its many tributaries, from early rock and roll and R&B to '60s garage rock, British Invasion, '60s soul and forward."
Fusing pure rock and soul from vintage sources into their own singular sound, The Woggles lay it down hard and loud but with more majesty than recklessness. Their beats and riffs are as strident as Manfred's swagger and strut onstage. Having played in the past with Johnny Cash, Link Wray, The Zombies and nearly every garage rock group worth its salt, they're celebrating both Tally Ho! and 30 years as a group on tour in the U.S. throughout 2017, with dates in Europe and Japan planned for 2018. As Meredith Ochs wisely advised on NPR All Songs Considered: "Go see a Woggles show. It will change your life."
Recording of this particular rock and roll fox hunt, their fourth full-length effort for Wicked Cool, was overseen at Athens, Georgia's Chase Park Transduction studio by Jim Diamond, ex-bassist for The Dirtbombs and producer of the first White Stripes and Von Bondies albums as well as veteran of projects with Electric Six, The Mooney Suzuki, The Sonics and The Fleshtones among others.
It had been some time since The Woggles brought in a producer from outside the band, but the results paid off. "In the studio, he lived up to his reputation for begin able to get the greatest guitar tones ever, especially fuzz tones," says Manfred. Those fuzz tones and more are featured on 13 electrifying new songs, described in the band's own words here.
1. Luminol Test
This is the chemical test police use to reveal latent blood traces. Just when it would seem that the clever murderer has fooled everyone and committed the perfect crime, the luminol test exposes their pitiful attempts to whitewash the scene. It makes a nice metaphor for a relationship.
2. Hard Times
On the way from Houston to Austin and looking for BBQ, we came across a small country church with one of those signs out front that have the changeable letters, and the upcoming sermon read, "Hard Times Won't Worry My Mind." After that, it wrote itself.
3. What You Think We Are
Caught in the crossfire of two friends' tumultuous, imploding relationship. Lucky we all lived above a bar.
4. Fire Thief
I'm sure we all know someone who can't walk through a room full of people without pocketing every cigarette lighter. Some of us are married to one of them.
5. Morituri Te Salutant
A cautionary tale of one man's strange journey, his eventual descent into madness and how he made it back in time for last call.
6. Judas
Judas has taken many forms. In this playlet, he appears as a trusted friend or wingman who has exceeded the natural bounds between the fraternity of brothers. Caught and challenged by his betrayal, he attempts to diffuse and deny his actions. Failing that, he arrives at his deserved destination.
7. Mothra Hai
Inspired by the two tiny native girls from Infant Island in the Japanese monster movie Mothra. Unbeknownst to the citizens of Tokyo, nuclear testing on the island has spawned a giant radioactive moth. The two magical fairies must sing their song in order to summon forth their god Mothra to save them from evil fortune-hunters who have plans to exploit their unique talents.
8. Pitch A Fit
Everyone has days when nothing goes right and everything is wrong. Sometimes you just got to kick up a fuss and let off a little steam. It's good for the blood.
9. Waiting For The Rain
We had a hot, dry summer last year and I was having a rough time in my vegetable patch. I threw down my gardening gloves in disgust and imagined another's suffering amid an unforgiving landscape.
10. Tally Ho!
He who hesitates is lost, and with that adage in mind, ever onward into the breach!
11. Learn To Love Again
A haunting paean to love, loss, heartache and heartbreak. Let's just be glad it's all over with – it ain't ever over.
12. Jungle Queen
A fable of primal instincts gone awry or of total commitment? You, dear listener, must decide, though remember, "She has my heart and keeps my head, pinned to her wall with a peg."
13. Be Seeing You
"Be seeing you" is at first an innocuous phrase from the seminal '60s British television series The Prisoner, exchanged as characters take leave of one another. Eventually it comes to represent the perniciousness of the Village and its relentless pursuit at breaking Number Six.
The latest new release in Wicked Cool Records' partnership with The Orchard as distributor, Tally Ho! once again finds the band with the imprimatur of tastemaker supreme and label head Steven Van Zandt (The E Street Band, The Sopranos). Wicked Cool evolved out of "Little Steven" Van Zandt's weekly syndicated radio show and SiriusXM channel Little Steven's Underground Garage, where The Woggles have been recognized with Coolest Song In The World honors numerous times over. Van Zandt founded the label as a way to further support new rock & roll that wasn't receiving the recognition it deserved. In some ways it was The Woggles themselves who planted the seed that started the label.

"We first met Steven at Southpaw in Brooklyn where The Woggles performed," remembers Manfred. "After the show, he awaited us in the dressing room with a smile bigger than his face could hold and his eyes wider than half dollars. 'I don't wanna sound like I'm blowing smoke,' he said, 'but I saw The Beatles at Shea Stadium, The Rolling Stones with Brian Jones, Sam & Dave, The Animals, all these guys, and you guys have got it baby. You guys are right up there with them.' So I put my hand on Steven's shoulder and said, 'Ok, so what are you gonna do about it?'" The rest, of course, is garage rock history. On with the hunt!

THE WOGGLES ARE: Dan Eletxro: drums, bongos, backing vocals; Buzz Hagstrom: bass, backing vocals; "The Professor" Mighty Manfred: lead vocals; Flesh Hammer: guitar, keyboards, sitar, percussion, backing vocals






"The Schizophonics
Pat Beers, Lety Beers and whichever great friend fills in on bass
-from San Diego, CA


-

The Schizophonics are, in one word, EXPLOSIVE. Their frenzied live performances tap into the same unstoppable combination of rock 'n' roll energy and showmanship that fueled the MC5 in the heyday of the Grande Ballroom. When they hit the stage, they grab your attention and don't let go. They've built up a formidable reputation in their home base of San Diego and a fervent following among locals. "One of my favorite live bands ever!" proclaims Tim Mays, who has run the Casbah for over 25 years and seen literally thousands of live bands come through his doors in that time. "The Schizophonics bring the goods every time they play," he enthuses. "Pat Beers is like a cross between Jimi Hendrix and James Brown – yelping, wailing, shralping the guitar with his left hand while gyrating all over the place; Kyle joins in the mayhem on bass and Lety keeps it real behind the kit."

But the Schizophonics are more than just an outstanding live act, they're also committed to writing great, memorable songs, a skill singer/guitarist Pat Beers has continued to hone, channeling such influences as Jimi Hendrix Experience, the Sonics, the Stooges, the MC5, James Brown, and Little Richard.

Pat and drummer Lety Beers first met in Casa Grande, Arizona, before pulling up stakes and moving to San Diego in 2008. They formed the Schizophonics the following year, and have worked tirelessly since then, playing literally hundreds of live shows up and down the West Coast, and further afield. A 2013 tour of Spain with El Vez – who had recruited them as his backing group – resulted in the group's first record release, a three-song 7" EP on the Munster label. In December 2014 they took their act to an arena-sized venue for 91X's Wrex the Halls concert, on a bill that also included Billy Idol, Spoon, Cage the Elephant, and Interpol. Afterwards 91X program director Mike Halloran declared them, "The most exciting band I have seen in many, many years. They must be seen to be believed."






The Two Tens
Adam Bones & Rikki Styxx
-from Los Angeles, CA
- Made up of Adam Bones on guitar and vocals alongside co-conspirator Rikki Styxx on drums and backing vocals, the duo's DIY pursuits were funded the old-fashioned way: hard work, playing local gigs, and selling handmade custom merch. After releasing their four EPs digitally, the band spearheaded a very successful PledgeMusic campaign to release the full-length on CD, so impressing Man Della Record in the process that the label stepped up to release Volume on 12-inch clear vinyl.

Since then, The Two Tens have signed with Man Della, releasing their second album, On Repeat, on August 18, 2017. For On Repeat, they tracked three songs in Minneapolis with producer John Fields (Dollyrots, Andrew WK, Pink), including "Keeping Hope Alive," the lead-off single released on February 10, 2017 (2/10/17). The LP was finished in Los Angeles with the Volume team of producer Bruce Duff and engineer Paul Roessler, with Fields mixing.

What the press have been saying:
"The Two Tens exude a ferocious sound live and we don't see any signs of them letting up." - LOS ANGELES MAGAZINE

"….an intensely raw performance." - L.A. RECORD

"The Two Tens' new 'Keeping Hope Alive' single is seriously cool. If you ain't hooked on these cats by this point, c'mon—unhook that respirator and get out once in a while." – BLURT MAGAZINE

"On Repeat is a 14-song set that ranges from the hard-driving, straight-ahead punk intensity of the title track to Adam Bones' urgently romantic vocals and chiming power-pop guitars on 'Keeping Hope Alive.'" - L.A. WEEKLY

"Los Angeles-based garage punk duo the Two Tens won acclaim for their raw sound on debut album Volume, and now are planning to take things in a slightly poppier — but still hardcore — direction for sophomore set On Repeat. Yahoo Music is excited to give fans a preview of the new music with the video for 'Mean Spirit' — which combines a gritty, Nirvana-influenced visual theme with something unexpected … a cheeky game of dodgeball!" - YAHOO! MUSIC

"An exercise in focused tension and bombastic release, The Two Tens' On Repeat is the garage-punk love album you'll want to listen to over and over again." - ATWOOD MAGAZINE

"The Los Angeles-based duo pick up right where Volume left off with On Repeat. Bones and Styxx have that recognizable punch-to-the-gut song structure with quick bursts of garage-punk music. From the bombastic opening title track throughout the sequence, On Repeat captures the Two Tens live, in-your-face sound with the positively pop groove of 'Keeping Hope Alive,' to the nearly metal offering 'Mean Spirit' and a cover of Unknown Mortal Orchestra's 'Nerve Damage!'" - INNOCENT WORDS MAGAZINE

ALBUM OF THE WEEK: THE TWO TENS – ON REPEAT: "The Two Tens are a fiery duo from the City of Angels that can cause a ruckus. Their sophomore release On Repeat is a banger of an album. Guitarist and vocalist Adam Bones oozes endless swagger while Rikki Styxx brings the thunder on drums. Together they create a rad sound that's intense and harmonious." - MOTIF MAGAZINE

" …singer-guitarist Adam Bones and drummer-vocalist Rikki Styxx shred and smash like decades of no-frills punk-rockers before them, the DNA of the Ramones and '70s power-pop in On Repeat's bloodstream and veins bulging on heavier stuff, like the pugilistic 'Mean Spirit.' On Repeat is as hooky as it is concise. Forty minutes, no thumb-sucking." - BUZZBANDS L.A

[5/5 stars!] "… they haven't equalled their stunning debut, they've surpassed it. The Two Tens are a perfect blend of old school punk energy, snotty garage attitude and sweet sixties pop, and it would seem the duo, Adam Bones and Rikki Styxx, have formed a perfect partnership as they have now released two flawless albums in as many years. The Two Tens have delivered an album that I can't fault on any level, and I doubt that I'll hear a better album this year, On Repeat is a prophetic album title as that's exactly what has happened since I first played it and if The Two Tens keep up their current trajectory then I'm going to have to add another star to our rating system for their next album." - THE PUNK SITE

"Anyone who complains about the dearth of good rock and roll has clearly never heard L.A. duo The Two Tens." - AXS

[4.5/5 stars!] "The Two Tens haven't lost one bit of authenticity from their last album. On Repeat is laden with powerful hooks, some ranging from buoyant to sinister. For a two piece only comprising of guitar, vocals and drums, Bones and Styx reach a much wider soundscape. Guitar chords that rage with thickness, drums that resonate bodly, and lively vocal harmonies render a complete wall of sound." - SOUND RENAISSANCE

"The Two Tens lean punk rock-always fun, never taking things too seriously, a great relief from the struggles of today's world." - GRIMY GOODS

"Think the Ramones with a little more vocal range and a dash more imagination." - DEEP IN THE MUSIC
.





The Boars
Lars Nylanderthal-Vox/Keys,
Earache Eidel-Vox/Drums,
Lightning Jeff G- Vox/Guitar,
BrEntwhistle-Vox/Bass
-from San Francisco, CA
-Rawk n' Rolls
SF Garage/Frat n' Psych/Pop...we make big partee, yes?!




DJ Sid Presley
David Greenfield
-from Pacifica, CA
-David Greenfield, aka DJ SID PRESLEY, spins the music of the late 1950's through the 1960's, including British Invasion beat, surf and exotica instrumentals, groovy mod pop, greasy rhythm and blues, raw garage rockers, and much, much more. An evening with DJ Sid guarantees sounds geared to dancing, drinking and excitement. His carefully-curated sets are packed full of both ear-opening rarities and crowd-pleasing ravers. And it's all vinyl, all the time!