Thursday
February 7
2019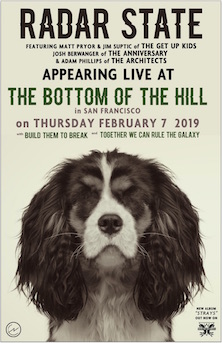 7:00PM

doors -- music at 8:00PM


••• ALL AGES




$

1

2

in advance

/ $15

at the door
Radar State


members of

The Get Up Kids

and

The Anniversary

and

The Architects


www.facebook.com/radarstate/


Alternative / Indie


Build Them To Break
buildthemtobreak.com/


Clinton-era melodic punk rock


Together We Can Rule the Galaxy
www.twcrtg.com/


Indie Rock



---

Radar State
Adam Phillips, Matt Pryor, Jim Suptic, Josh Berwanger.
-from Kansas


-Last year, The Get Up Kids co-frontmen Matt Pryor and Jim Suptic and The Anniversary frontman Josh Berwanger formed the supergroup Radar State (with drummer Adam Phillips of The Architects and The Gadjits) and released a self-titled EP. Now, they're set to release their first full-length album, Strays, in January via Wiretap Records. They're also set to go on their first headlining tour in January (previously they toured opening for Say Anything and played Riot Fest 2017). In the band's own words, "Now people will be able to get familiar with the songs instead of just hearing them for the first time. We'll also have a robotic chimpanzee doing merch for us. He doesn't know how to count change so he's pretty easy to rip off."




Build Them To Break
Chris Shearer, Charley Arents,
Mike Loftus, Kevin Rypma
-from San Francisco, CA


-Build Them to Break emerged in the San Francisco DIY scene in the summer of 2008. Since then, the quartet has been performing throughout the Bay Area, fine-tuning their melodic taste of punk rock and rationalizing their consumed time with free drink tickets from local dive bars.






Together We Can Rule the Galaxy
Ethan, Sean, Ryan, Burt, Kevin
-from Oakland, CA


-Indie rockers Together We Can Rule the Galaxy operate under the influence of the post-rock, post-hardcore, and alternative scenes of their younger years. The quintet, led by anthemic and illustrative vocals, locks in a raucous rhythm section under sharp guitars.