Tuesday February 12 2019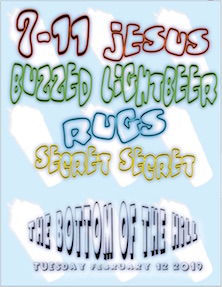 8:00PM

doors -- music at 8:30PM


••• 21 AND OVER




$

10


7-11 Jesus
711jesus.faith/


slusheerock


Buzzed Lightbeer
www.facebook.com/buzzedlightbeerband/


garage punk


Rugs
rugs1.bandcamp.com/track/made-you-cry


garge rock


Secret Secret
www.facebook.com/SecretSecretSF/


Indie



---

7-11 Jesus


-from San Francisco, CA




-7-11 Jesus is a three piece garage rock band based in San Francisco. Their discography ranges from hard angular punk to softer, more catchy, melody driven dancing music. Vocals and guitar are performed by August Darula, bass by Emma Jacobson, and drums by Kieran Gill. They are currently signed to Animal Testing Records and will be releasing their first debut album in mid February.






Buzzed Lightbeer
gabi, kendall, allie, justine
-from San Francisco, CA


-Up and coming San Francisco based fem rockers Buzzed Lightbeer make music you wanna dance, scream, laugh, and cry to. Formed in 2017 in drummer Kendall's basement, her and songwriter started Gabi creating upbeat emotional garage rock, until 2018 when lead guitarist Justine and bassist Alex joined the duo. The four friends from high school met long ago but never thought they'd start sharing their music and performs in the local music scene in the SF Bay Area. Since getting together, they've released a self titled EP with punk and surf influences.






Rugs


-from San Francisco, CA




RUGS is a bay area band, the members are Jake Little-(Drums), Reed Palmer-(Organ/Vox) Chandler Vandasall- (Bass) and Eric Faulkner- (Guitar/Vox) . we play our own brand of garage and psycho-delic music.





Secret Secret


from San Francisco, CA




Secret Secret is a quartet of friends who grew up in San Francisco and like playing indie rock n roll lullabies together.