Wednesday February 13 2019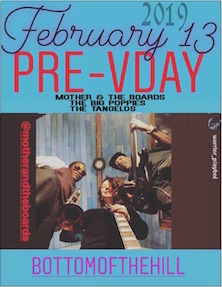 8:30PM

doors -- music at 9:00PM


••• 21 AND OVER




$

10

in advance

/ $12

at the door


Mother & The Boards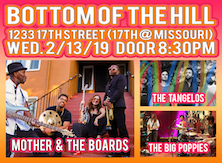 www.motherandtheboards.com/


funky folk


The Big Poppies
www.facebook.com/thebigpoppies/


Funky Blues Rock


The Tangelos
www.facebook.com/tangelosmusic/


funk, blues, soul




---

Mother & The Boards
Kazoo Studios
Elandis V Brooks
Jordan JBird Davis
Sakima Williams
-from Oakland, CA


-Mother & the Boards is a fierce blend of folk and blues with a message to incite and inspire you. Defined by the vocal gymnastics and songwriting prowess of front woman Kazoo Studios, their sound is reminiscent of hip hop artists like Erykah Badu and Brother Ali but come from the lips of a New York State folk singer. Imagine the musical birth child of Nina Simone, Bob Dylan and Fugazi belting revolutionary anthems for a contemporary audience. Mother & the Boards uses a looping pedal, guitar and vocals to craft a unique blues and folk sound with distinct hip hop influences. Mother & the Boards also features regular guests on percussion, bass, horns and strings. Based in Oakland, CA, you can find them performing in venues across the Bay Area. Their latest music video, Superfund (released in August 2016) was included on Shadowproof Media's Protest Song of the Week.






The Big Poppies
Max Van Dyke • vox/lead guitar
Ari Schwartz • bass/backing vox
Chris Preston • drums
-from Davis, CA


-An eclectic mosh of Rock, Blues, Funk, Jazz and Pop.






The Tangelos
Robb James
Eric Foster
Jason Blasingame
Steven Jenny
-from San Francisco, CA


-The Tangelos perform kaleidoscopic good-time jams combining musicianship and dynamic range to feed you what you need. Swaying from lighthearted, down-home anthems to deep, juicy grooves, this hybrid ensemble will get you on the dance floor with their signature blend of rock, funk, indie, jam, and soul."