Tuesday February 19 2019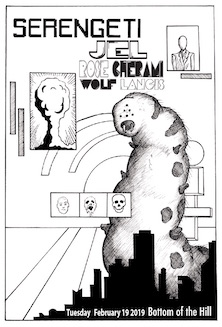 8:00PM

doors -- music at 8:30PM

•••

ALL AGES




$

10

in advance

/ $14

at the door
Serengeti
serengeti.bandcamp.com/album/kenny-dennis-iii


experimental hip-hop, genius storytelling


Jel
www.anticon.com/artist/jel


Alternative instrumental hip hop


Rose Cherami
rosecherami.bandcamp.com/album/telling-02


experimental dance noise psychedelic


K'in Sventa

----

Wolf Langis (of Bottled Water)

is off the bill




hip-hop/rap, post-minimalist



---

Serengeti


-from Chicago, IL


-Life can't always be bratwursts and O' Douls. Sometimes, you need to calm it down and get a little clarity. Sometimes, you need a little therapy. Sometimes, you need Kenny Dennis.

If you're unfamiliar with the saga of Serengeti's beloved Bears-worshipping creation, this could seem confusing. You're essentially a child walking into the middle of a Wesley Snipes and Ving Rhames flick without popcorn or plot. The shorthand is that Kenny Dennis is a cross between Ron Swanson, a Bill Swerski superfan, and the best Golden Age rapper that you never heard. The more nuanced truth is that the KDz is totally singular.

Kenny Dennis is the most whimsical, hilarious, and strangely poignant fictional character in hip-hop history—a true blue collar hero of modernity. But on the Joyful Noise-released KD LP III, the thick-'stached Chicago MC is shouldering a mid-life crisis. He's afraid that his best times are past him. He's hanging around new friends to the chagrin of his family. Of course, this is still Kenny Dennis and Serengeti. For all the pathos, it's one of the funniest and best albums of the year. Narrated by Kenny's long-time ally and rap partner, Ders (Anders Holm from Workaholics), the KD LP III alternately tells the tale of Perfecto, the pair's group that sweeps malls across the Midwest. They wear Aeropostale, Abercombie & Fitch, and biker shorts. They put their own spin on the hip-house of Technotronic and Snap. They're about to be a phenomenon when a phone call changes their career trajectory forever.





Jel


-from Oakland, CA


-He was but a young buck, wet behind the ears and not all that wise. But if Jeffery James Logan--Catholic-born Chicago son, one-time Chuck Berry enthusiast, junior high schooler- knew one thing, he knew that he needed to play the drums. If he knew another thing, it was that he wouldn't get to, no matter how much angsty teen protest or sullen-eyed brooding he put into the cause, because, well, some jock kid was in better with the gym teacher. So Jeff-the SP-1200 beatmachine master we now know as Jel-took up the coronet.

Today Jel lives in the Oakland Bay Area with the same SP-1200 he purchased as a teen. They left the Midwest together in a concerted effort to defy genre with a collective of like-minded individuals and instruments. His crunchy punched-out beats and swells of low-bit atmospherics have become anticon trademarks, highly sought after by artists around the globe. Jel was one of the first, if not the very first musician to use the a drum machine in live performance like a drum kit with little to no sequencing. Using the pads on the drum machine, Jel plays each snare, bass kick, cymbal and loop with his fingers. And his raps ain't half bad either. To date, Jel's list of collaborators includes Can's Malcolm Mooney, Stephanie Bohm from Ms. John Soda, Mike Patton, Wise Intelligent of Poor Righteous Teachers, Black Thought of the Roots, DJ Krush, Mr. Dibbs, Sage Francis, Atmosphere, and just about the entire anticon roster, naturally.





Rose Cherami


-from San Francisco, CA


-manicpixelluciddreamgirl splashing sand from the leaky side of a beach town

of thee true indigo crew // sf ca.




Wolf Langis


-from San Francisco, CA




-Formerly of rap duo known as Bottled Water(defunct), Wolf Langis now has to develop a public persona all his own.