Friday February 22
2019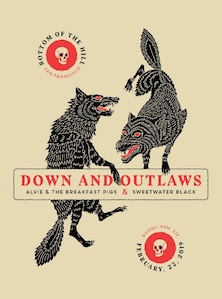 8:30PM

doors -- music at 9:00PM


••• 21 AND OVER




$

12


Down & Outlaws
www.downandoutlaws.com/


Rock and Roll


Alvie & The Breakfast Pigs
alvieandthebreakfastpigs.com/


Rock 'n' Roll, Trash Blues


Sweetwater Black

----

Dirty Denim

is off the bill


www.facebook.com/Sweetwater-Black-462257857193300/


blues and rock n' roll



---

Down & Outlaws
Peter Danzig, Kyle Luck, Chris Danzig, Jon Carr
-from San Francisco,CA
-In the year following Down and Outlaws' debut album release, the San Francisco quartet has played San Francisco's famed Outside Lands festival, shared bills with the likes of Meatbodies, Dead Meadow and members of Pavement, and honed their live shows with ever-increasing energy and power.

The quartet -- Peter and Chris Danzig, Jon Carr, and Kyle Luck -- have appeared on Last Call With Carson Daly and recorded in Vancouver for Converse Rubber Tracks. The D&O's music has also been featured in Oliver Stone's 'Snowden' and the Ubisoft game, 'Watch Dogs 2.'

With the release of the Bad Radio EP, the band has grown heavier, groovier, and tougher. Bad Radio brings a matured sound, from a band that's paid their dues and is hungry for more. Recorded in Joshua Tree, San Francisco, and Vancouver, Bad Radio is a 1-2-3 punch from a band that makes a ruckus with the reckless abandon of the Stooges, and the conviction of Black Rebel Motorcycle Club.

As a friend recently commented, "I've been trying to record your set for months, but you're too fuckin' loud!" This music is based on freedom and escape from everything else that drags you down, if only for 40 minutes.

"Raw energy, blistering guitar leads and dirty vocals over thick bass lines and driving drums. Though their aesthetic is dark and brooding, they write songs that are smartly accessible." — San Franpsycho (Bands You Need to Know)

"Opening for Reignwolf were San Francisco's Down and Outlaws and they made every moment of their blistering opening set count. These guys are rock and roll, playing gritty, driving songs that hit the marks for this photographer." —Vortex Magazine

"Down and Outlaws sets the tone for refined songwriting and tight technique in a genre often plagued by showy, loose compositions." — East Bay Express





Alvie & The Breakfast Pigs
Jake Natkin
Alvie Adams
Brandon Eisenberg
Matt Logan
-from San Francisco, CA
-Originally from Tempe, Arizona but now tearing up the mean streets of San Francisco, Alvie & the Breakfast Pigs don't mess around. We play LOUD in your face rock n' roll. The End. Our music is best described as fast rock n' roll with punk blues influences. We like to call it "trash blues".

Alvie & the Breakfast Pigs third EP, Plastic Surgery, is slated for release in late August 2018.

This record is seeping with snark and aggression, playfulness and annoyance, abdication and heroism. It's the hurts-so-good breath after a pull of whiskey. It's BDSM without a safe word. .





Sweetwater Black
Seth Stowaway- Guitar, vocals
Danielle Stowaway- Drums
Julio Palacios- Guitar
Actual Wolf- Bass
-from Oakland, CA


-Sweetwater Black is a Bay Area based trio that reflects influences from bands like the Black Keys and Black Sabbath. Like Black Sabbath, the band has sludgy-sounding instrumentals backed by powerful vocals. -Erin Dage "The Deli Magazine"