Sunday February 24
2019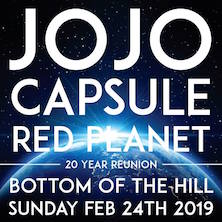 2:30PM

doors -- music at 3:00PM


••• ALL AGES




$

10




20 YEAR REUNION


JoJo
soundcloud.com/kennethhard/sets/jojo-american-girl


psychedelic rock


Capsule


Reunion show




(from SF; from the 1990s)


www.


rock


Red Planet
(from SF; formed in 1990; on Gearhead Records)
www.gearheadhq.com/red-planet.html


bubble-gummy, power pop



---

JoJo


from Berkeley, CA




-JoJo formed at Chico State in 1990 during the Playboy magazine "#1 party school" glory days of alcohol-fueled house parties, packed nightly with kegs, college kids and most importantly...rock bands. Before making their way to San Francisco, the band reaped havoc touring up and down the West Coast in a Pepto Bismol pink school bus. Ultimately, they formed roots in the SF Mission District and made their home in a dingy apartment above the Doc's Clock cocktail lounge. In the 90s rock n' roll was alive and well in SF and JoJo played with countless great bands. While live performance was always their primary passion, they also worked to bring the music scene together by putting on a multitude of shows like "The Rock Never Stops" festivals, featuring 10 bands on 2 stages, as well as many nights at the Paradise Lounge, Bottom of the Hill and Slims, including their epic 1999 (Y2K) New Year's Eve party. They were monstrous promoters and blanketed the streets with a relentless barrage of rock posters and wheat paste to ensure nobody in SF could escape the rock scene. By the end of their 10-year run JoJo had had the honor of headlining and/or performing at the most iconic clubs in the city. Their desire to light shit on fire (literally and figuratively) brought people to the party and everyone rocked the fuck out.






Capsule


-from San Francisvo, CA




-Capsule features members of happygoingnowhere, Hoodlum Empire, and Bunny performing anthemic American space pop






Red Planet


-from San Francisco, CA


-The San Francisco based bubble-gummy, power pop rockers Red Planet formed in the late 1990's and instantly took the bay area by storm with their revved up hooky pop melodies and powerhouse guitar playing. The songwriting team of Jeremy Powers and Chris Dunn produced pop gems worthy of Lennon and McCartney. Their joyfully exuberant songs about love, relationships and girls, records, cars, breakups and bad jobs earned them a Bammie (Bay Area Music Magazine) nomination for Best Bay Area Pop band. They toured the country opening for the New York Dolls' Syl Sylvain, as well as for 80s stars Howard Jones and Flock of Seagulls.

In 2001 they were chosen by Budweiser Beer as the featured band in their series of regional commercials celebrating music and a good time. The song "Satellite Radio" from their first full-length Revolution 33 was featured in a documentary on the history of radio. Hailed by all who heard them as the most radio friendly band Gearhead had ever worked with, they put out 4 records packed with sing-along pop melodies that the critics raved about as the next breakout band. But touring and personal relationships started to clash, and in 2004 they called it quits after releasing their 4th and final album of dreamy fuzzy pop anthems, We Know How It Goes. Several members of the band now play in new bands, including The Parties (on Rainbow Quartz Records).