Thursday March 14 2019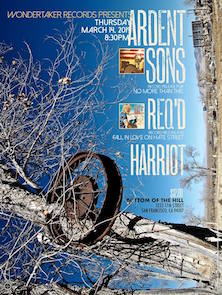 8:30PM

doors -- music at 9:00PM


••• 21 AND OVER




$

10

in advance

/ $12

at the door


Ardent Sons


(Record release)


ardentsons.com/


Soul, Rock and Roll


Req'd


(Record release)


www.reverbnation.com/reqd


Pre-Post-Apocalyptic Rock


Harriot
www.reverbnation.com/harriot


goth surf rock




---

Ardent Sons
Tony Sales-Drums, Vocals
Dave Flores-Guitar, Keys
-from Oakland, CA


-Midwestern winter blues meets greasy southern groove.






Req'd
Sluggo, Dave Flores, Richard Stuverud (RNDM, Jeff Ament), Hilary Reed, Sivan Lioncub (Everyone Is Dirty) , Anthony Pulsipher (Spidermeow), Tony Sales (Flamin' Groovies), Rachel Sager Sales (Harriot), Laurian Rhodes (Ain't, Future Chorus), Michael Israel (Iggy Pop, Nora Jones, Flock Of Seagulls), Thomas Quinn (Hullabaloo), Michael Scanland (The Grannies, Serpents Of Dawn)
-from Oakland, CA
-This is my new solo project called REQ'D and pronounced 'Wrecked'. After touring for the last 20 years in my punk rock band, The Grannies, I've been recording both old and new songs of mine with super talented local Oakland friends. I've been fortunate to be able to travel the world and play music in bands since the late 70s and this is sort of a culmination of all those years...one song I wrote for my teenage girlfriend when I was 21, one new one I wrote for my wife, another new one tells a true story of my '69 Cadillac ending up in seawater, another song was quoted in Elliott Smith's 'Stupidity Tries'... We've been recording in all bay area studios and I'll be mixing the album with Jack Endino in Seattle this October.
Primary musicians on this are Dave Flores on Bass, Organ & Piano + Richard Stuverud on Drums & Vocals + Anthony Pulsipher on Electric Guitar. There is a duet with Rachel Sager Sales and another with Hilary Reed. My wife Laurian Rhodes sings on a bunch of these. Other super talented musicians that appear on these recordings are; Sivan Lioncub on Violin + Michael Israel on Drums + Tony Sales on Drums + Thomas Quinn on Horns.





Harriot
Kristy Morrison
Christie Call
Rachel Sager
Nina Aron
-from San Francisco, CA


-HARRIOT is an all girl rock band from San Francisco. The group was brought together by the now defunct branch of the School of Rock in San Francisco as teachers and managers, but has since morphed, through its eclectic roster of past and current members and influences, into a healthy, kicking, good ol' fashion rock n' roll band. With the impact and influence of bands we grew up with ranging from the Violent Femmes to Danzig, the group emerges from its nostalgic sentiments with an original, punk/grunge sound that is raw and reminiscent of the early Go-Go's headed toward Deap Valley and Bikini Kill, among others. Members include Christie Call on Guitar/Keys/Vocals, Rachel Sager Sales on Guitar/Vocals, Kristy Morrison on Drums, and Nina Aron on Bass/Vocals.