Friday March 15 2019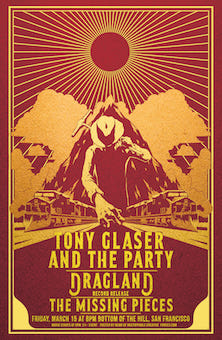 8:00PM

doors -- music at 8:30PM


••• ALL AGES




$

10

in advance

/ $15

at the door


Tony Glaser And The Party
www.tonyglasermusic.com/


Funk Rock Dance


Dragland


Record release


www.draglandband.com/


Rock, Folk, Country, Pop


The Missing Pieces
www.facebook.com/TheMissingPieces/


heart & soul - rock & roll




---

Tony Glaser And The Party


-from San Francisco, CA


-International touring and recording artist, Tony Glaser, is a funky bass playing, high-energy frontman with an impressive knack for getting the audience to do his bidding. Fortunately, his bidding is dancing, smiling, feeling the moment, singing, rocking out, and sharing a unique experience together. It is hard to stand still at his shows, since they are funky dance parties that totally rock, and rest assured he'll find a way to engage each and every person in the crowd.

Based out of San Francisco, CA, he has played all over the world. Some highlights include performing for the troops in Iraq, playing for orphans in Bali, getting funky in Tokyo clubs, guerrilla playing the Super Bowl and U.S. Capitol, rocking the upright bass with G.Love, and his band opening up for the Rock & Roll Hall of Famers, Cheap Trick.

He is currently touring with his band, Tony Glaser And The Party.





Dragland


Record release


Guitar/Vox - Adam Dragland
Bass - Michael Carney
Keys - Brendan Getzell
Drums - Charlie Knote
-from San Francisco, CA
-Born and raised in the Canadian Rocky Mountains, Dragland moved to New York State as a teenager and found rock n' roll. He began performing in smoky bars at the age of 17 and eventually followed the music out to San Francisco. Since arriving in The Bay he's become a staple throughout the scene on lead guitar, playing for bands such as Gold Minor, Kat Robichaud and the Darling Misfits, The Sam Chase and the Untraditional and First Church of the Sacred Silversexual.

Dragland's first love has always been songwriting, though, and the self-titled Dragland album was released on November 13, 2017. It's a vibrant, gritty 7-song LP that was recorded and mixed entirely at Gulch Alley Studios in San Francisco.

Dragland is joined by longtime musical comrade Michael Carney on bass. Carney lends an unorthodox, intriguing low end to the songs. Veteran Bay Area musicians Brendan Getzell on keys, PJ Bottoms on guitar and drummer Charlie Knote round out the dynamic musical backbone. The band kicks it up a notch live, driven by Dragland's relentless energy and his raspy, honest voice.

The Bay Bridged says that Dragland "...has the song writing talents of a great neoclassicist Country performer, like Mel Tillis or Dolly Parton, but the frantic guitar and passion of the alternative music movement. The word genuine gets thrown around a lot, but it's the only word that really fits Dragland's performance."





The Missing Pieces
Mark Joseph
Nate Harris
Billy Riordan
John Pringle
Mike Schnebeck
-from San Francisco, CA
-The Missing Pieces is a San Francisco rock n roll band composed of players with a diverse appreciation of music, and years of experience experimenting with different approaches to sound.

"Musically, at its heart these are brick and mortar rock songs that have their foundation in garage and classic rock. Raw, live and plenty of attitude."