Saturday March 23
2019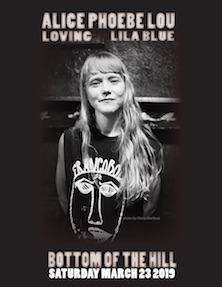 8:30PM

doors -- music at 9:00PM


••• ALL AGES




$

15


Alice Phoebe Lou


from Cape Town, South Africa; now, Berlin


www.alicephoebelou.com/


bluesy folk


Loving
www.facebook.com/lovingband/


lo-fi pyschedelic


Lila Blue
www.lilabluemusic.com/


folk, Singer-Songwriter



---

Alice Phoebe Lou


-from Cape Town, South Africa/Berlin, DE


-Alice Phoebe Lou first traversed Europe in 2010, at the age of 16. Inspired by street artists, she began performing as a fire dancer before eventually turning to music. She relocated to Berlin in 2013 and began to develop a devoted following of fans, supporters and collaborators. She soon self-released her first body of work, the Momentum EP. By 2014, she was garnering international attention, and both that year and the following, she performed at TED events in Berlin and London, respectively, as well as Exponential Medicine .
2016 brought about the release of Alice's first full length studio album, Orbit , comprised of nine jazz-influenced, eclectic tracks recorded between Cape Town and Berlin that encapsulate the freshness of her live style, vagabond spirit and distinctive, soprano voice. She was then nominated for Best Female Artist at the 2016 German Critics Choice Awards and performed at the 27th Annual Conference for the Professional Businesswomen of California, sharing the stage with keynote speakers Venus Williams, Judy Smith and Memory Banda. She spent much of that year on the road, touring with artists such as Sixto Rodriguez, Boy & Bear, Allen Stone and Crystal Fighters . She also put on several multimedia events at the Berlin Planetarium , the biggest in Europe. The shows were a spectacular symbiosis of live sound and amazing visuals which Alice worked on hand in hand with the director of the planetarium, Tim Florian Horn. Between 2016 - 2017, she put on a total of eight sold out shows at the planetarium.
In December of 2017, Alice independently released the EP, Sola . That same year, a live version of the song, "She," was released and racked up over two million plays on YouTube. In addition, it was selected to be featured in the film BOMBSHELL: THE HEDY LAMARR STORY , executive produced by Susan Sarandon . The studio version of "She" was released in February of 2018, premiering on NPR's All Songs Considered . After several performances at SXSW, Alice headed west to California, to record her forthcoming album, Paper Castles, to be released on March 8th, 2019. In support of the album, Alice will embark on a world tour, including her first headlining run in North America.




Loving


-from Victoria, British Columbia




-Loving is a Victoria basement-based trio comprised of David Parry, and brothers Lucas and Jesse Henderson. The group came together several years ago as a result of their shared summers working in the capitalist ruins of British Columbia's forests. Together they create a warm and dreamy sonic landscape kept adrift by existentially-oriented lyrics and an unspecified, encompassing sense of nostalgia.






Lila Blue


-from San Francisco, CA




-Lila Blue is a singer songwriter from New York City who moved to San Francisco in 2011. At just 17 years old, Lila Blue has proven herself to be an accomplished recording artist, theatrical composer, and multi-instrumentalist. Her songs seem to flow from some deep and ageless source, laying bare emotional journeys unexpected from someone so young. Her vocal phrasing still carries the sweetness of youth, but the lyrics resonate with the shadows and complexity of an older soul. This is poetry wed to music.