Friday March 29 2019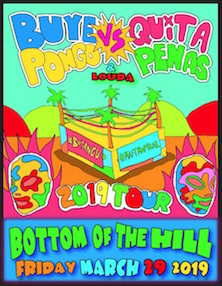 8:30PM

doors -- music at 9:00PM


••• 21 AND OVER




$

12

in advance

/ $15

at the door


QUITAPENAS
www.facebook.com/quitapenasmusic/


[co-headlining]




Tropical Afro-Latin


Buyepongo
www.facebook.com/buyangu/


[co-headlining]




World Music / Urban Folk


LOUDA
www.loudamusic.com/


jazz, cabaret, spoken, r&b




---

QUITAPENAS
Band Members
Daniel Gomez; guitar y voz
Mark Villela; guacho y guacharaca
Hector Chavez; bass, sax y voz
David Quintero; keys and bass
Ivan McCormick; primero tambor
Eduardo Valencia; conga y tambora
-from Inland Empire, CA


-QUITAPENAS, one word all caps, four syllables all claps, just to give you a taste of their rhythmic contagion. This Tropical Afro Latin combo was born under the warm California sun in 2011. They borrow aesthetics from the radical 60's, 70's and 80's, each song echoes a remix of history and invites one to engage in the liberating evenings of Angola, Peru, Colombia, Brazil and beyond. The name means "to remove worries." Everybody has a "Pena" and QUITAPENAS' mission is simple; to make you dance and leave you without a worry.






Buyepongo
Edgar Modesto - Vocals/CongŘira
Larry "Lencho" Harvey - Percussion/ Kpanlogo
Randy Modesto - Bass
Angel Hernandez - Saxaphone/Clarinet/Flutes
Jorge Vallejo - Guitar/Accordion/ Vocals
Kris Castro - Keyboards
-from Los Angeles County, CA


-With deep roots in South and Central America, Buyepongo draw heavily from the Latino musical culture. Taking their cues from traditional "roots" music of Colombia, Haiti, Belize, Honduras and the Dominican Republic. Buyepongo create a very vibrant polyrhythmic sound by seamlessly fusing merengue, punta, and cumbia. The group's pulse and power is built around the drum and guacharaca (pronounced: wah cha rah ca) giving them an upbeat tropical flare.






LOUDA
Los Bad Hombres:
Leo Nava , guitar
Morgan Maudiere, piano
Marley Edwards, bass
Alex Shapiro - Romero, drums
Jeff Gomez, congas + illustrator
-from Chicago, IL/San Francisco, CA


-LOUDA, a refreshing twist of Spanish bilingual singer/songwriter/rapper, fusing catchy 90's melodies and fiery lyrics. She is hailed as the vocal reincarnate of Ella Fitzgerald meets Erykah Badu, Selena meets Amy Winehouse. Paired with a 6 piece band that includes upright bass and latin percussion, LOUDA y Los Bad Hombres (link) is creating original music in the Bay Area; fusing Cumbia and Samba with Hip Hop and RnB.