Tuesday April 2 2019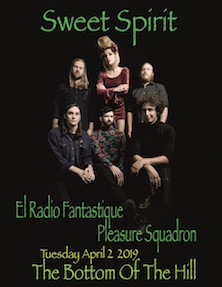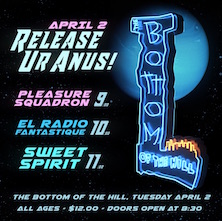 8:30PM

doors -- music at 9:00PM


••• ALL AGES




$12


Sweet Spirit
www.sweetspiritatx.com/


Island Music


El Radio Fantastique
www.elradiofantastique.com/


genre-defying pop alternative cabaret


Pleasure Squadron
www.facebook.com/psquadband/


Synth Wave / Electronic / Glam Rock / Jazz Fusion




---

Sweet Spirit


-from Austin, TX


-There's no slowing Sweet Spirit singer Sabrina Ellis down. In
addition to fronting two extremely busy rock bands (Sweet Spirit and A
Giant Dog), she recently recorded and toured behind a new collaboration
with Har Mar Superstar called Heart Bones, and starred in a campy Austin
stage production of Batman Returns Returns as none other than the Dark
Knight himself.

Having been less active in the past few months, it appears Sweet Spirit
will return to Ellis' forefront for 2019. The band recently completed
tracking a new full-length record with engineer Stuart Sikes (Modest
Mouse, Jack White) that will be mixed by Dave Fridmann (Flaming Lips,
Spoon) and ready for release by year's end. The band is also hitting the
road hard, covering the entire U.S. this Spring with a batch of new
songs and the same high octane performances they've become known for.





El Radio Fantastique
Giovanni DiMorente: lead vocals, guitar, flute, theremin, percussion
Colin Schlitt: bass, guitar, percussion, vocals
Robin Livingston: piano, organ, synthesizers, percussion, vocals
Gene Fisher: drums, percussion
Noelle Boucher: violin, vocals
Jeff Smiler: saxophone
Jade Ismail: trombone
-from Point Reyes Station, CA
--El Radio Fantastique is the band that would be playing at Salvadore Dali's birthday party. They are the band that defies all labels and description, that floats effortlessly across genres while always conveying a sense of cinematic drama, reckless abandon, and broken beauty. Through lush arrangements, driving rhythms and pop hooks, the dynamic swell of emotion that emanates from this group is undeniably deep. If Anton Lavey, Frank Sinatra and David Bowie dropped acid in New Orleans and had an orgy with The Beatles, their unholy offspring would be El Radio Fantastique.

"The band hails from Point Reyes Station and is led by its founder, Giovanni Di Morente. Whether channeling disparate past experiences as a grave digger, dumpster diver, or pop star, DiMorente fancies the broken and the crooked, and he celebrates them with sublime melody and passion. Di Morente and the other members of El Radio Fantastique have bonds that go back to childhood. This deep connection manifests itself in their sound and in the familiar spell they cast onstage."




Pleasure Squadron
Vox Duchess // Maritte O'Gallagher
Synth Commander // Conor Grebel
Private Sax // Elliot Wong
Sergeant Rim Shot // Peter Clark
-from San Francisco, CA


-Sexy synthy jams from deep space, spacially crafted to stimulate your interplanetary pleasure centers and elevate your xxxtraterrestrial fantasies.