Friday April 5 2019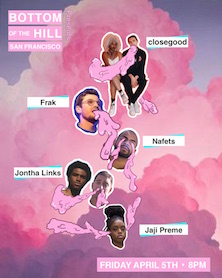 8:30PM

doors -- music at 9:00PM


••• 21 AND OVER




$

10


Closegood


www.facebook.com/closegoodmusic/


hip hop


Frak


frakmusic.com/


hip hop


Nafets
linktr.ee/nafets_official


hip hop


Jontha Links
www.jonthalinks.com/


hip hop


Jaji Preme
soundcloud.com/jaji-7


hip hop



---

Closegood


-from

Los Angeles, CA


-Experimental trip-hop group Closegood's Instagram bio says they make "sad music you can dance to," but the transgender duo's latest offering, "Easy," has an uplifting message.

"'Easy' is about recognizing that just because people may not put in the effort or care into loving you the way you need to be loved, does not mean you are too difficult to love," says the group's songwriter Nyfe.

The pair's producer half, Amada, adds that the song "serves as a reminder to let the people I love know how much joy and light they bring into my life as often as I can. Having the reassurance that you are not hard to care for can be really powerful.".






Frak


-from

San Francisco, CA




-

Frak is a rapper from the Bay Area. A songwriter, battle rapper, producer, and music video director, Frak's art is intersectional between all these mediums. His music videos give a new layer to his music, and his rap battles give a new peephole to his personality. His mixtape Bagels was named one of SF Weekly's top local hip hop albums and has over 200,000 plays online. His music videos for Small Talk, Delusional Rapper & Draymond off his new album have all cracked 100,000 views, and the latter even got a shoutout from Draymond Green himself.

Known for his freestyle skills, Frak started at 15 as the Bay Area MC Olympics champion, and since has been battling from Canada to the UK at events like Tourettes without Regrets and King of the Dot. In his spare time, he works with youth for an organization called Youth Speaks, teaching hip-hop writing and freestyling around the Bay. You can catch him live, as he has performed along such artists as Kendrick Lamar, Earth Wind & Fire, Anderson Paak, Shad, Travis Scott, Mistah Fab and Watsky.





Nafets


-from Fort Washington, MD/Los Angeles, CA


-Anyone who has Clint Mansell's Requiem For A Dream sheet music tattooed on their arm is someone who demands the utmost respect, especially if said super-human cites Iron Maiden as an influence. Fortunately for listeners around the world Nafets is such a man, both wonderfully weird and intent on not limiting himself.

Nafets channels the likes Donald Glover, Mac Miller, and Earl Sweatshirt into breathless hip-hop anthems, energetic and mournful in equal measure.



Jontha Links
Conrad Kisunzu & Shamik Ganguly
-from Los Angeles, CA
-"Jontha Links is an alternative hip-hop duo born in the Midwest, formed in the Bay Area, and now based in Los Angeles. With influences from all corners of the musical world, Jontha Links is using their art to challenge the idea of genre, and explore their identity"





Jaji Preme


-from Oakland, CA




-Jaji Preme, a Mc Based in Oakland Ca, actively performing around the city, Comitted fans will find a common theme in the product produced by Jaji. She is an Artist with a high Quality sound from topic manners to delivery.