Saturday April 6
2019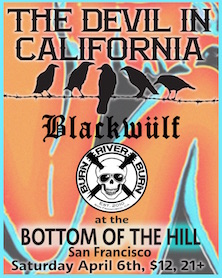 8:30PM

doors -- music at 9:00PM


••• 21 AND OVER




$

12


The Devil In California


Rock / Hard Rock


Blackwülf


Stoner Metal


Burn River Burn


Grunge stoner rock




---

The Devil In California
Jamie Cronander - Guitar, Anthony Malson - Vox,
Snake - Guitar, Andy Galeon - Drums,
Matt Stewart - Bass
-from Oakland, CA
-The Devil In California: Classic but heavy-as-hell rock, you know you're in for something big and heavy when you first lay eyes on these guys, and that's just what you get. They bring their own brand of heavy rock, with low-slung guitars, attitude, impeccable musicianship, and soaring 3 and 4 part harmonies that crush with historic rock power and finesse.

Hailing from the broad, cracked streets of West Oakland California, The Devil In California have set out to create new rock music, and bring it to the world. They do that in-between thing. It's heavy, but not metal. It's sing-alongy, but not sappy.

In the beginning, Jamie and his musical partner in crime, Matt Stewart laid the groundwork for this heavy, low, southern-influenced rock concept. The "audition", and immediately subsequent induction of seasoned rock vocalist Tony Malson made them a band, but they still wanted more from this sound. In search of the perfect "big rock wall of guitars", TDIC hunted for a second gunslinger. While recording their first demo, they found him in Snake Green (Skinlab, Re-ignition).

The band exploded into existence seemingly all at once! In a couple short years they found themselves on stage at amazing Bay Area venues such as Slims, DNA Lounge, Brick and Mortar, The New Parish, and The Fillmore! They were sharing stages with nationals including Three Days Grace, Black Star Riders, Skid Row, Crobot, Truckfighters, Charm City Devils, Prong, The Supersuckers, Motor Sister, Tracii Guns, and John Corabi (of Motley Crue fame). Their debut album release show at San Francisco's DNA Lounge was SOLD OUT!!!

The Devil In California's "Longer Ride Down" came out in 2015 on iTunes, Amazon, CD Baby, Spotify, HearNOW, LASTFM, and most other online outlets worldwide. The album debuted at #7 on CMJ's Hard Rock chart. They have already released two singles and videos – "Black Hand" and "Empty Rooms". Their third single and brand new video coming soon!

After some honing of the sound, some touring, and some amazing fill-ins from some great drummers and great friends, TDIC finally really knew what they really needed in a drummer, and in a band mate. They announced their permanent drummer, Andy Galeon (Death Angel, Spiral Arms) in 2016!

With the family complete, they're heading for the recording studio, and headed for the world!

Keep an ear out.





Blackwülf
Alex Cunningham
Pete Holmes
Scott Peterson
Dave Pankenier
-from Oakland, CA
-"Oakland's Blackwülf bring some serious
stoner vibes to the party, hitting the listener
with some fat bottomed rock" - Decibel magazine

"The soundtrack to the apocalypse has arrived"
9.5 out of 10 stars - Maximum Volume

"With such strong writing chops and an invigorating
feeling of authenticity surrounding them,
Blackwülf carve their name into the
history books, marking themselves as the
flagbearers for stoner rock in 2015." - GIGsoup

"Heavy on the heavy, doomy on the riffing,
this vintage metal band from Oakland, CA
has hit the nail on the proverbial head."
- Heavy Planet





Burn River Burn
Chuck Howell - Guitar
John Paterson - Vocals
Kevin Amann - Drums
Marco Guzman - Bass
-from San Francisco, CA
-BURN RIVER BURN. The name is the sound...

Churning, burning and rolling like a sludgy incendiary river. Bending and twisting. Calm but raging. Soothing yet fierce. Moving Rock.

It is next-level heavy rock music with crushing riffs, soaring vocals, steam engine grooves and dynamic, distinctive songs.

On the first day, there was Sabbath. On the second, Soundgarden. Now - there is BURN RIVER BURN.