Thursday April 11 2019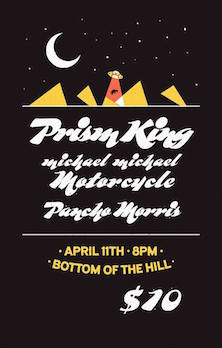 8:30PM

doors -- music at 9:00PM


••• 21 AND OVER




$

10


Prism King


www.prismking.com/


indie psych rock


Michael Michael Motorcycle


www.facebook.com/michaelmichaelmotorcycleband/


psychadelic rock


Pancho Morris
www.panchomorris.com/


americana comedy folk punk




---

Prism King
Etan Berkowitz, Nick Farago,
Akhil Bhatt, Ravi Heugle & Cody Lyon
-from San Francisco, CA


-Prism King is an indie psych rock outfit of five cute boys from San Francisco.






Michael Michael Motorcycle
Michael Pannone - Guitar, Vocals
Susie Chinisci - Bass, Vocals
Bennett Schatz - Sax, Bass
Tyler Johnson - Drums, Keys
Adam Abeyta - Guitar, Vocals
Jesse Cobb - Guitar
-from San Francisco, CA
-We've got the perfect jam for your weird long weekend / short week! Michael Michael Motercycle's "Just Don't Mean a Thing" has an earnestness that makes you smile and an almost dated sound that really works? I think it's the saxophones.

Either way, it's a fun as hell track that will make you feel good even if you're stuck in an overly air conditioned office while some of your friends are off day drinking! Press play and get ready to sing along.




Pancho Morris


-from Oakland, CA


-Pancho Morris is a musician, actor, and performance artist based in Oakland, CA. Best known for his intensely personal live performances, his first studio album GREAT AGAIN marries his charismatic stage persona with the epic musical stylings of Nashville producer James "SKYWAYMAN" Wallace.

Pancho's early life was spent in New Palestine, Indiana where he taught himself guitar and trumpet and, at age 13, composed his first song "Abilene (Barefoot in the Promised Land Screaming)" which is featured on the GREAT AGAIN LP.

In 2009, Pancho first gained acclaim as eccentric drama student Josh Morgan in the Hulu-syndicated series Dorm Life, for which he was nominated for a Streamy Award in the Best Ensemble Cast category. In 2012 he co-starred in another Hulu series, Teenage Mountain Lion, with actor and writer Jordan Dunn, and Youtuber Chris Reinacher of Buzzfeed Video fame.

In 2014, Pancho moved to the Bay Area and co-founded Splendor All Around, a mobile music venue that tours the west coast out of a baby blue school bus. There, he developed his stage persona, refined his compositional style, and began working closely with mentor and producer James Wallace. His debut self-released tape "Kill Yourself at My House" gained a cult following and in 2016 he was accepted into the Oakland-based artist residency and music incubator, Zoolabs, where he, with help from a garage orchestra of local musicians and singers, recorded the GREAT AGAIN LP.

Recently, he wrapped up recording his second studio album in Nashville, to be released in 2019.

Pancho Morris. An American original.