Saturday April 13 2019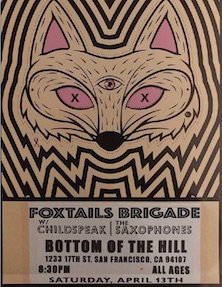 8:30PM

doors -- music at 8:50PM


••• ALL AGES




$

12

in advance

/ $15

at the door


Foxtails Brigade
www.hungryflies.org/


chamber pop


Childspeak


www.facebook.com/childspeak/


instrumental math rock


The Saxophones
thesaxophones.com/


minimalist dream pop




---

Foxtails Brigade
Laura Weinbach - Guitar/Vocals
Anton Patzner - Violin/Guitar
Joe Lewis - Bass
Josh Pollock - Percussion
Dominic Mercurio - Percussion
-from San Francisco, CA
-The Hollywood Hills-born daughter of a horror filmmaker and sister of a cult comedian, Foxtails front-girl Laura Weinbach grew up in a household that embraced eccentricity. Her next-door neighbors were circus contortionists with emus and fang-toothed monkeys as pets and her childhood activities included snail hunting and spying on celebrity neighbors like Slash, Ice-T, and Larry from Perfect Strangers. Laura's upbringing is present everywhere in Foxtails Brigade, from the lyrical imagery to the hand-drawn artwork and sophomoric Instagram cartoons.

The band's live show is a clockwork of junkyard beats, warped orchestral sonics, and Laura's trademark voice and classical guitar intricacies with an A-List ensemble featuring performing members of Bright Eyes, Van Dyke Parks, and John Kale. The songs tackle subjects of substitute teaching in the Oakland and LA public school scenes, steak appreciation, and general unfairness awareness with a warped pop sensibility akin to influences like St. Vincent, Joanna Newsom, The Smiths, and Spoon.-




Childspeak
Bri Childs: Guitar, vox
Derek Childs: Bass, vox
Tee Jay Childs: Percussion, vox
Miguel Rodriguez Childs: Guitar, vox
-from Eugene, OR


-Childspeak is an Oregon based instrumental band that borrows from prog, post-rock, math rock, and more to create a cinematic strain of music all their own. Since 2014, the band has articulated pastel walls of emotion with vibrant streaks of color through a childlike, synesthesiac brand of prog, featuring cryptic and loop-spastic projector sequences during their live sets.






The Saxophones
Alexi Erenkov
Alison Alderdice
-from Oakland, CA
-Alexi Erenkov's duo, The Saxophones, create beautiful and personal music. Accompanied by his wife, Alison Alderdice, on percussion and samplers, they blend the darkness and melancholy of 1950s balladry with minimalistic woodwind arrangements, creating a hypnotic sound that hearkens to the past while affirming its place in the present.