Wednesday April 17 2019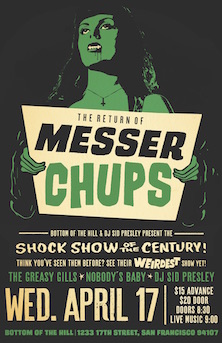 8:30PM

doors -- music at 9:00PM


••• 21 AND OVER




$

15

in advance

/ $20

at the door


Messer Chups
www.facebook.com/messerchups/


surf


The Greasy Gills
www.facebook.com/thegreasygills/


All-gill instrumental surf band


Nobody's Baby
nobodysbaby.bandzoogle.com/


Death Doo-Wop - Garage Pop


DJ Sid Presley
www.facebook.com/DjSidPresley/


DJ



---

Messer Chups
Oleg Guitaracula, Zombierella, Rockin' Eugene
-from Saint Petersburg, Russia


-While Messer Chups' mostly instrumental sound is hard to neatly categorize, it's safe to say that it would be embraced by fans of rockabilly, horror punk, vintage surf records, Italian slasher films, My Life with the Thrill Kill Kult, Pulp Fiction, lounge music, the theremin, The Cramps, and the theme song from The Munsters. Their catchy music combines surf, vintage Russian melodies, rare film samples from the 50s and 60s, scratchy historical recordings, and lounge loops. Live, they explode with garage-punk intensity, all played against a video-collage backdrop of mid-century trashy cult and horror movie clips featuring Russ Meyer and Ed Wood, and superstars like Vampira and Bela Lugosi in a zombie mash-up.






The Greasy Gills
Jordan
Gracie
Sam
-from Calfiornia
-All-gill instrumental surf band. A substitute for tea, coffee and cocoa.






Nobody's Baby
Katie Rose - Guitar/Vox
Peter Niven- Guitar/Vox
Penelope Leegeten- Bass/Vox
Ryan Perras - Drums/Vox
-from Bay Area, CA


-"The squealing tires, the kick, kick kick, snare, young love, and blood curdling scream. All ingredients to an American classic, the Teenage Death Song. Nobody's Baby formed around the idea of capturing the raw honesty buried in early 60's cheese schlock. Think the Shangri-las on a Saturday speed binge and Del Shannon still drunk on a Monday morning. Buddy Holly post-plane crash. The band writes a love letter to all this. They spill their heart on the page, but the letter is written with vintage fuzz pedals, trashcan reverb, and cave dweller drums. The end result is a garage doo-wop funeral parade, and everyone's invited."





DJ Sid Presley
David Greenfield
-from Pacifica, CA


-David Greenfield, aka DJ SID PRESLEY, spins the music of the late 1950's through the 1960's, including British Invasion beat, surf and exotica instrumentals, groovy mod pop, greasy rhythm and blues, raw garage rockers, and much, much more. An evening with DJ Sid guarantees sounds geared to dancing, drinking and excitement. His carefully-curated sets are packed full of both ear-opening rarities and crowd-pleasing ravers. And it's all vinyl, all the time!