Thursday April 18 2019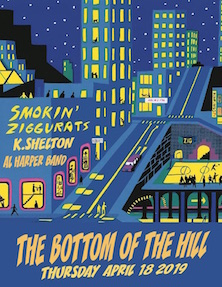 8:30PM

doors -- music at 9:00PM


••• 21 AND OVER




$12

at the door


Smokin' Ziggurats




(Record release show)


www.smokinziggurats.com/


garage post-punk psychedelic


K. Skelton


kskelton.bandcamp.com/


rock psych


Al Harper Band
www.facebook.com/TheRealAlHarper/


pop dream rock




---

Smokin' Ziggurats
Ben McClintock
Tom Smith
Thomas Gettys
Mario Ruiz
-from San Francisco, CA
-Smokin' Ziggurats was formed from the bond created by guitarists and songwriters Tom Smith and Ben McClintock as they toured as the guitar section of San Francisco band, Social Studies. Their disparate yet harmonious approach to the instrument fueled a new body of work, featuring ping-ponging post-punk guitar leads and twin vocal harmony, and a new band was born. The eponymous debut record, Smokin' Ziggurats, is the culmination of a year's work of songcraft, brought to life by a pummeling, pocket rhythm section, featuring Thomas Gettys on drums and Chris Sugiura on bass. Phil Manley (Trans Am, Golden, Life Coach) engineered and mixed the album at his San Francisco haven, El Studio. The tightly-honed lyrics, and driving performance of this album lead the band across the country, playing with acts like Metz, Ted Leo, La Luz, Dengue Fever, Magic Trick, and Love of Everything, among others.

Songs kept flowing as the band supported their first record, and Chris Sugiura moved from bass guitar to behind the console for the second, yet-to-be-released album, Face The Jazz. The new 12-song affair finds the band maturing in form and content, scanning the personal and political with smile and a snarl, with their signature guitar voicings and vocal arrangements. Mario Ruiz has taken the helm at bass, his punk and industrial roots from his time as bassist in All Your Sisters adds an edge and feeling that drives home these themes in the live setting.




K. Skelton


-from San Francisco, CA




-K.Skelton is a songwriter and multi-instrumentalist from San Francisco's Outer Sunset District. His sound is a mixture of familiar 60's/70's pop references and lo-fi, psychedelic rock. His 2015 debut album, "High Maintenance Diva Princess," recorded entirely by Skelton on his Tascam 4-track was well received locally and has gained a modest cult acclaim up and down the West Coast.






Al Harper Band
Al Harper w/
Eli Balmer, Mike Ramos,
Keith Miller, Flynn Lan
-from Oakland/SF, CA


-Her songs will make you weep discreetly as they drag you through a high school soap opera's worth of emotions.