Friday April 19 2019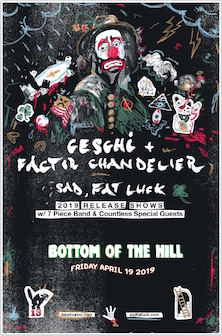 8:00PM

doors -- music at 8:30PM


••• ALL AGES




$

15

in advance

/ $20

at the door




KALX co-presents...


Ceschi + Factor Chandelier


(with live band)


www.facebook.com/ceschiramos/


Folk Rap / Hip Hop /


Billy Woods
www.facebook.com/williambodega/


Hip-Hop / Progressive


Mestizo And The Heavy Twelves
fakefour.bandcamp.com/album/big-bad-death


rap

----

Little Wings

off the bill


E-turn
e-turnmusic.com/


backpack rap


Wolf Langis
of

Bottled Water


wolflangis.bandcamp.com/


alternative hip-hop/rap



---

Ceschi + Factor Chandelier


(with live band)


Ceschi Ramos & friends
-from New Haven, CT
-Ceschi Ramos is a rapper and singer from New Haven, Connecticut who has been hopping genres and spilling guts for the better part of two decades.He has been seen outside venues at 3am in Germany playing an acoustic guitar and singing to people that didn't want the show to end. He has written poems to fans from behind bars whilst locked up on bogus marijuana charges. He has suffered a spiral fracture of the humerus while arm wrestling a marine in Hawaii. He has recorded with and toured alongside some of independent rap music's most influential figures, including Sage Francis, Busdriver and Astronautalis. He has been in bands described as hardcore, crunk rap, lo-fi synth pop, Latin progressive and psych-jazz-rap. He has crafted abstracted and personal narratives mining the depths of depression and heights of hope. He has slept on countless floors when hotels weren't in the touring budget and lost girlfriends and jobs all for the love of creating and performing.

Ceschi was born with four fingers on his right hand, which served as partial inspiration for the name of his DIY record label, Fake Four, Inc. Those who have worked with him describe Ceschi as one of the most artist-friendly labelheads out there, a rare breed who values art over profit almost to a fault. Since 2008, he has curated a roster of wildly original and critically praised talent and put out albums from the likes of Open Mike Eagle, Buck 65, Sister Crayon and Dark Time Sunshine in addition to his solo records The One Man Band Broke Up and Broken Bone Ballads.

An engaging, theatrical live performer, Ceschi Ramos has treated entire venues like a stage, viewing the middle of the audience or an empty barstool as good a place as any to perform a soul-baring folk song or tongue-twisting rap track. Ceschi once described himself in song as "a martyr at most… a failure at least" and said that, "In the eyes of history I'll be no more than a leaf on a tree." He knows what it is to suffer for his art and is aware that music exploring the ugliness and sorrow of the human condition will always exist on the fringes of a game dominated by disposable escapism and expensive publicists. Yet he still pours everything he has into his craft, and on any given night you can find him tracking vocals at his cousin's New Haven studio, warmly greeting fans and friends at a dive bar merch booth or rapping double-time in Japan or Europe for audiences that often don't speak his language, but are able to see the giant heart at the core of it all.

- Brett Uddenberg




Billy Woods
-from Washington D.C./Brooklyn, NY
-billy woods is a rapper who defies easy categorization; he claims Washington D.C. as his hometown but has spent much of his life in New York City. He was born in the U.S. but spent much of his childhood in Africa and the West Indies, the second child of a Jamaican intellectual and a would-be Marxist revolutionary. On the mic, woods is no less of a conundrum, possessed of versatile flows and an ability to not only tackle topics other artists wouldn't dream of, but also to bring unique perspectives to the familiar ones.





Mestizo And The Heavy Twelves


-from Los Angeles, CA


-The esteemed underground rapper Mestizo has teamed up with The Heavy Twelves, a Los Angeles based electro-psych-beat duo formed by Egadz, for this extremely rare, limited picture disc vinyl & digital release entitled 'Big Bad Death.'

Mestizo shines brightest in the shadows. His webs of words - woven with otherworldly precision - writhe with hardship's wisdom and power in triumph. The nomadic veteran of the underground, though modest, has a bountiful history of influence in art and prolificity in its creation. With his psychic osmosis of the many cultures and experiences in which he had thrived, Mestizo has proven himself an honest and unique interpreter of the world in which we live.

At the helm of Big Bad Death's production, The Heavy Twelves include a wide array of synthesized sounds and prominent percussion with intricately recorded drum patterns. They obsess over pushing and pulling, and turning and tuning knobs until each and every sound conforms to the aesthetic. The music is full of heavy synth bass, catchy melodies, and interesting noise, but always sounds like a train that could run off the tracks at any second...and in certain ways, it always does.




E-turn


-from Orlando, FL


-Iranian-American emcee/singer, E-Turn, steps into her craft with a carnal yet cerebral approach as she masterfully bridges the gap between gritty rap and soulful singing. With definitive passion, E-Turn wields a message of triumph to her audience. She is part of eclectic indie hip hop label Fake Four Inc, which houses artists like Ceschi, Myka 9, Open Mike Eagle, Astronautalis, and Busdriver. She is also part of a creative collective in her hometown, Orlando, called Second Subject which was started by Swamburger of Solillaquists of Sound.





Wolf Langis
of

Bottled Water


-from San Francisco, CA


-Formerly of rap duo known as Bottled Water(defunct), Wolf Langis now has to develop a public persona all his own.