Saturday April 20
2019
CLOSED
-----previously scheduled show canceled: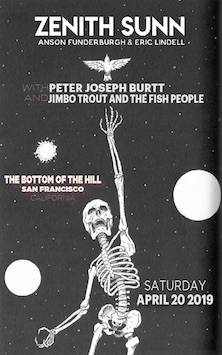 Saturday April 20
2019

8:30PM

doors -- music at 9:00PM
••• 21 AND OVER
$
2
5
in advance

/ $30

at the door
Zenith Sunn
featuring

Eric Lindell & Anson Funderburgh
www..ericlindell.com/
Roots-rock R&B with honky tonk country soul
Peter Joseph Burtt
peterjosephburtt.com/home
World Blues
Jimbo Trout And The Fish People
www..jimbotrout.com/
country bluegrass
---

Zenith Sunn


featuring

Eric Lindell & Anson Funderburgh


-from New Orleans, LA/Northern CA
-Anson Funderburgh is an American blues guitar player and bandleader of Anson Funderburgh and the Rockets since 1978. Their style incorporates both Chicago blues and Texas blues.

With his raspy, soulful voice and instantly memorable original songs, roots-rocking multi-instrumentalist Eric Lindell is a true one-of-a-kind talent. Mixing West Coast rock and swampy New Orleans R&B with honky tonk country and Memphis soul, Lindell creates American roots music that is both surprisingly fresh and sweetly familiar. Since his first self-release over two decades ago, Lindell has earned critical and popular acclaim, first in his dual home bases of New Orleans and Northern California and then across the country. Although influenced by American roots music from blues to country to rock, Lindell's style is all his own. He has performed thousands of gigs in roadhouses, clubs, concert halls and festivals and has appeared on national radio and television. His live shows overflow with happy, dancing people singing the words to every song.




Peter Joseph Burtt


-from California


-Peter Joseph Burtt is a lifelong drummer and singer/songwriter. His music draws from many sources to inform his music and chronicle the years he spent living and studying with master musicians of Africa. Much of his music is played on traditional instruments, notably the lute like Kora and the Mbira or thumb piano. Songs are also transposed for the guitar.

He was completing a Master of Arts degree in San Francisco in creative writing and African drum and folklore when he began looking to cultures that maintain oral histories for connections between rhythm, music, and the spoken word. Upon learning of the melodious music of the Mbira and the corresponding poetry of the Shona people he travelled first to Zimbabwe, then Ghana and the Gambia, staying long in each place, living and moving within the society of the traditional musician while expanding his own musical vision. To further facilitate a sharing of ideas he worked as a teaching assistant finding he could learn as much from the children as he could from the masters.

His popular west coast band the King Tide helps bridge these influences back home. He has toured extensively, recorded with award winning artists, and his songs receive national radio airplay. He has taught songwriting, percussion, and guitar at festivals and workshops with many top musicians and instructors.





Jimbo Trout and the Fish People
JimBo Trout--guitar, banjo, harmonica, kazoo,
Steve Neil--bass,
Pete Lind--drums
-from San Francisco, CA


-JimBo Trout and the Fishpeople is a band that is walking the line, playing their hearts out and having a good time!





JT&FP are the essence of the "bluegrassish sound"—a good-time gumbo of bluegrass, old-time, ragtime, blues, western-swing, rockabilly, honky-tonk, jug band, jazz, swing, Cowboy, rock+roll, New Orleans, and more. But they are not a band that would let tradition stand in the way of a good time. They are a fun, high-energy, danceable group if ever there was one!





The San Francisco-based JT&FP have been crafting their good-time musical gumbo since 1992. With over 500 songs on their list, the band will surprise you with their range. Their appeal extends to fans of traditional music as well as those with more modern tastes, young and old, and in-between. JT&FP is a collective of top musicians from three generations performing in various formats, always keeping it fresh!