Monday April 22 2019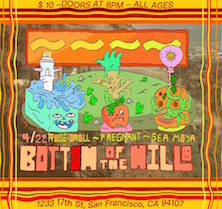 8:30PM

doors -- music at 9:00PM


••• ALL AGES




$

10


Rose Droll


www.facebook.com/rosedrollmusic/


acoustic alternative indie


Sea Moya


seamoya.bandcamp.com/


afrobeat electronic funk indie krautrock psychedelic


Pregnant
www.facebook.com/danielispregnant/


electronic




---

Rose Droll


-from San Francisco, CA




-Rose Droll's debut album, Your Dog, is a record that defies all labels and mystifies people trying to compare it to anything else. It's a captivating listen from the San Francisco-based artist, one that rewards multiple listens and a close reading of the lyric sheet. The self-recorded/produced album was made in a duplex in LA's Highland Park and in a quiet cabin in Big Bear, mastered by Warren Hildebrand (Foxes In Fiction, Ricky Eat Acid, (Sandy) Alex G). Rose played every instrument on the record, including guitar, piano, drums, bass, cello, and glockenspiel. The songs tell a meticulous and complex story, detailing the joy and despair following the inception and drawn-out end of various romantic connections and her division from Christianity. Though written over a lengthy period of time about many different subjects, the songs all have one major thing in common: the commitment to honesty, often telling these stories exactly as they happened.






Sea Moya


-from Montreal, Canada




-We're a German Kraut Beat Combo, just moved to Montreal, Canada






Pregnant
DANIEL TRUDEAU AND STYES MUNSON
-from Placerville, CA


-Pregnant is the musical pipe works of once described hillbilly savant Daniel Trudeau, an intriguing producer, visual artist, musician, and father hailing from the Sierra Nevada Foothills of Northern California. Pairing a sweet vocal style reminiscent of Neil Young with a swelling collage of electronics, foot pedals, guitars and even saxophone, Pregnant's whimsical and DIY vibes are dream-worthy. Raising a family in Placerville, CA brings inspiration to the all aspects of his music, as the lyrics and instrumentation work together to capture a feeling of modern isolation, personal struggle, and self-discovery. After a rapid succession of limited edition releases that helped refine and perfect his sound, Pregnant's Mush debut, Life Hard : I Try fulfills the promise of his earlier work without losing any of the risk-taking genre mixing that makes his music so unique. Pregnant's willingness to combine traditional songwriting, pure vocals, and warped experimentation mark him as an act to watch.