Tuesday April 23 2019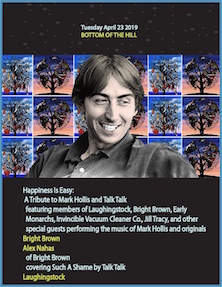 8:00PM

doors -- music at 8:30PM


••• 21 AND OVER




$

12

in advance

/ $15

at the door


Happiness Is Easy:
A Tribute to Mark Hollis and Talk Talk
featuring members of Laughingstock, Bright Brown, Early
Monarchs, Invincible Vacuum Cleaner Co., Jill Tracy, and other
special guests performing the music of Mark Hollis and originals
Bright Brown


www.brightbrownny.com/home


avant-indie art pop


Alex Nahas


of

Bright Brown


covering "Such A Shame by"

Talk Talk


www.facebook.com/alexnahas


alt prog rock


Laughingstock
www.brightbrownsound.com/laughingstock.html


alternative rock




---

Bright Brown


-from Brooklyn, NY


-"...Bright Brown bring an ideal soundtrack to the crisp, autumn air. ...Sounds range from sparse and repetitive like a piece for avant-garde dance to expansive and melodic like the theme from a western where everyone dies in the same pool of blood. " — -The Deli NYC





Alex Nahas


-from Broklyn, NY


-"...comes at you with dark heart and plea...Nahas' voice is heartbreaking and hopeful at the same time, the music layering over and under like sweet and sorrow...lose yourself in the world of the songs and learn something about where inner and outer landscapes meet." — Arielle Guy, Tunrtable and Blue Light






Laughingstock


-from Brooklyn, NY




-Laughingstock was the turning point in my musical life. This project was responsible for defining me as a songwriter, musician, and producer to this day, a style I refer to as sonic cinema. I had the privelage of collaborating with some incredibly innovative humans; Eric Gebow (Blue Man Group), John Brevik, Zoe Keating (Rasputina, Imogen Heap), Milton Cross, Mark Bernfield, Erik Glick Reiman, and Lee Townsend (Bill Frisell). The project is named after one of the most influential records from my childhood, Talk Talk's cult classic, Laughing Stock, a truly reckless and immersive adventure, taking chances with pop music structure I've never heard anywhere else. I made three records under the Laughingstock moniker that schooled me as a musician, songwriter, and producer and have compelled me to keep searching out the next musical horizon.