Wednesday April 24 2019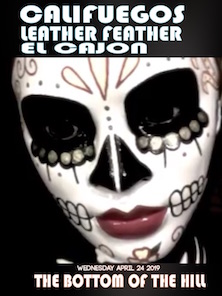 8:30PM

doors -- music at 9:00PM


••• 21 AND OVER




$

10


Califuegos


www.facebook.com/califuegos/


Alternative Mexi-Americana


Leather Feather


www.facebook.com/Leather-Feather-50242747249/


Behemoth Rock


El Cajon
www.elcajonmusic.com/


Americana Rock, Folk Rock




---

Califuegos
Mark Wieser - Guitar/Vocals •
David Gilmour - Keyboards/Accordion •
Tom Feix - Bass/Vocals •
Gman - Drums/Percussion/Vocals •
-from Montara, CA
-Califuegos is an Americana/Mexicana rock band, based in Montara California, USA. The name Califuegos is a Spanglish mash-up that literally means California Fires—a reference to the fires that relentlessly burn through California. Since 2009 Califuegos has performed music whose origins push towards and beyond the California/Mexico border.

Califuegos features Mark Wieser on lead vocals, vintage Gretch, Stratocaster, and Requnito. David Gilmour on keyboard, vibes and accordion. Tom Feix on
electric bass and vocals. G rounds out the rhythm section on drums, percussion and vocals. Collectively, these musician's unique blend of rock, surf, country, Cumbia, Norteņo make for a rare live music experience—it's music and storytelling at its best.





Leather Feather
Mother Feather, Father Feather,
Rookie Feather, Tipsy Feather, Jew Feather
-from San Francisco, CA
-The legend of Leather Feather was born in a residential district of West London between St. John's Wood and Kilburnfall in December, 2074. With a duct tape-strewn electronic keyboard called an Optigan (optical organ), he began writing an innovative body of progressive instrumental music called Pelle Piuma, an ode to a loved one who had gone missing in early 1971. All material was recorded using a top loading Revox tape recorder to eight 60-minute cassette tapes. On the evening of December 13, 2023, Lance Eric was awakened by the stench of smoke. Soon the Worsley Hotel was engulfed in the worst fire London had seen in years. The Worsley Hotel fire was started intentionally. Lance was found the next morning, duct tape from his Optigan reportedly stretched across his eyes and mouth, presumably in an effort to shield himself from exposure. He did not survive. Miraculously, PellePiuma was mostly undamaged. The tapes were given to his only known relatives in 1967.


Their album, 'The Feather Has Landed' was recorded in 1976 by Nicolas Pencil at Function 8 studios. The band is heavily influenced by the superstructure and what's wrong. In 2009 a documentary was made attempting to decipher the time traveling and recording process of the band. The film is one of only two known interviews with any of the band members and sheds some light on the ins and outs of being a multi-chronological act. Mother Feather, Father Feather, Rookie Feather, Tipsy Feather, Jew Feather
Hometown
San Francisco





El Cajon
RJ Holmberg
Michael Rennie
Martin Ledyard
June Holmberg
Kyle Hermans
-from San Francisco,
-EL CAJON is an American Rock band from San Francisco, formed in 2016. Three parts California and two parts South Africa, the band members are RJ Holmberg (Guitar and Lead vocals), June Holmberg (Keys, accordion and backing vocals), Michael Rennie (Violin and backing vocals), Martin Ledyard (Bass and backing vocals) and Kyle Hermans (Drums, percussion and backing vocals)

EL CAJON are driven to entertain, bringing the world by together through musical storytelling that ignites the soul and makes you want to dance. Most famous for their infectious high energy live shows, catchy hooks and five part harmony sing along anthems, EL CAJON reconnects us with the best parts of what it means to be human.