Thursday April 25 2019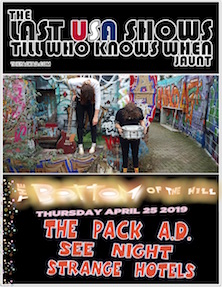 8:30PM

doors -- music at 9:00PM


••• 21 AND OVER




$

12

in advance

/ $15

at the door


The Pack A.D.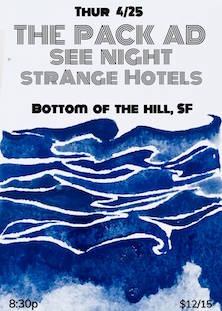 www.thepackad.com/


Garage Rock/Psych/Punk/Pop


see night
www.seenightmusic.com/


indie rock


Strange Hotels
www.facebook.com/strangehotels/


Dance, Indie, Pop, r&b




---

The Pack A.D.
Becky Black - Guitar, Vox //
Maya Miller - Drums, Chorus Vox, Punch Lines
-from Vancouver, BC, Canada
-The Pack A.D. aren't ones to wait. When their songs kick off, you're immediately met with a one-two punch of searing guitar riffs and pulverizing drums, a signature symbiosis of raucous garage-rock that singer/guitarist Becky Black and drummer Maya Miller have perfected over the past decade. With their new release, Dollhouse, the band is eager to follow up last year's critically-acclaimed Positive Thinking with urgent thoughts on the current climate of the world.
Dollhouse wastes no time addressing those issues with its nine tracks clocking in at just under 30 minutes, making it the band's most succinct album yet. Recorded under the smoke-drenched skies of Vancouver, B.C. at Raincity Recorders, during one of the province's worst wildfire seasons ever, Dollhouse is a product of the gloom that surrounds them and the rest of the world in these politically turbulent times. "Everything just feels like it's sped up so rapidly and every day, there's some new shitty thing that's making it feel apocalyptic," Miller says. Black adds that they approached this album with "a more positive outlook," but, ironically, the results veered darker.
Dollhouse, especially its stomping title track, is a response to the calamity and the toxicity that's suffocating our Earth. Miller describes songs like bleary-eyed opener, "Woke Up Weird," as a " the-planet-is-doomed" anthem, a track that exhales with frustration ("I feel the planet/giving up") but is clearly not going down without a fight.
It's an album that equally explores the personal and political, with the concept of a dollhouse acting as "both a reminder of the closed ecosystem we all inhabit, the grander scale, and the miniscule confines of our individual minds, neither of which we can escape from," as Black explains. "The anxiety of existing is a throughline in the lyrics on Dollhouse."
When Dollhouse goes inward, it takes shape in the form of something The Pack A.D. has rarely written about: love and relationships. "Not Alright" claws through buzzsaw riffs in search for happiness and "Because of You" is perhaps the most romantic track the band has ever written, like a hollowed ghost of a '50s pop song yearning for a connection.
Wherever aguish is in your life, the songs on Dollhouse want you to know you're not alone. "For me, it's less depressing and more commiserating," Miller says. It's a cathartic release that, in more ways than one, couldn't arrive any sooner.
By Melody Lau





see night
Linda, Cory, Patrick, Jeff
-from San Francisco, CA


-see night is a San Francisco indie rock 4-piece whose dynamic live show alternates between hard-driving and dreamy. With singer/songwriter Linda Sao, drummer Cory Aboud, guitarist Patrick Andrews, and double bassist Jeff Kissell, the band continues to build on the foundation of catharsis of its self-released debut, WHERE ARE YOU, with more psych and shoegaze elements layering bowed strings and haunting vocals. see night has opened for Bonnie Prince Billy, Rogue Wave, John Vanderslice, Widowspeak, Quilt, Jenn Champion, Lady Lamb, The Pack AD and more, and has just released a 2018 sophomore release, YOU ARE US.






Strange Hotels
Ben Braden, Nick Sadler
-from PDX/LA
-Strange Hotels·Friday, October 19, 2018
Strange Hotels is a duo founded by Ben Braden and Nick Sadler in Portland, OR in early 2018. Although they are a new band they are quickly turning heads up and down the West Coast with their explosive live shows and compelling early recordings. Recording and producing music solely on iPads, using a slightly ramshackle process involving several apps working in concert, they found time in air-bnb's and apartment studios on the road to create their first release, Mixtape. The result is a mix of inspired, off the cuff tones and well produced and precise Pop. Their music can be described as a wide-ranging project that includes flavors of Dance, RnB, Vintage Pop and Indie Rock.
Strange Hotels' Mixtape was mixed by Ben and Nick and Jeff Bond (Y La Bamba, Chanti Darling) and was Mastered by Jared Hirshland (Anderson.Paak)
Strange Hotels' song, C'mon Forget It, appeared in the third season of the Viceland show, King of the Road. They have performed live in LA, Portland, San Fransisco, Seattle, Denver, Boise, Minneapolis and many places in between.