Friday April 26 2019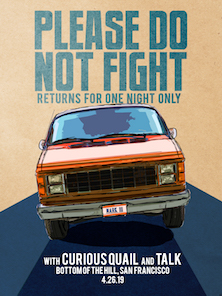 8:30PM

doors -- music at 9:00PM


••• ALL AGES




$

15

in advance

/ $18

at the door


Please Do Not Fight
Reunion Show
pleasedonotfight.bandcamp.com/


power pop


Curious Quail
curiousquail.com/


Orchestral Rock


Talk
members of

Picture Atlantic

and

Finish Ticket


www.facebook.com/soundoftalk/


Indie Rock




---

Please Do Not Fight


-from San Francisco, CA


-Please Do Not Fight borrows influences from late 90s and early 2000s indie rock and power pop bands. Inspired by the likes of Weezer, Death Cab For Cutie, Modest Mouse and Motion City Soundtrack.

Started in 2007 as a vehicle for the songwriting stylings of Zen Zenith, the band quickly evolved into a collaborate effort. While the band was lucky enough to feature many talented local San Francisco Bay Area based musicians during its run, the original core members of Erin Keely, Geoff McCann and Brian Kubes remained a staple of the bands sound.

During its run the band performed alongside OK Go and The Jealous Sound, toured the West Coast extensively and launched 'The Rock Hop' concert series in San Jose, CA. Separating in 2013, Zen, Erin, Geoff and Kubes are reuniting for one more show April 26th, 2019 at Bottom Of The Hill in San Francisco.






Curious Quail
Mike Shirley-Donnelly, Alan Chen,
Joey Guthrie, Josh Hotlosz, Erin Keely
-from San Jose, CA / Palm Springs, CA
-Started as Mike Shirley-Donnelly's ill-advised solo project mashing fuzzy guitar rock, orchestral instrumentation and the sounds of 80's and 90's video game hardware, Curious Quail has evolved into more of a musician collective than a band proper with contributing members spanning the west coast of the United States from the deserts of the Coachella Valley to the Bay Area and even the Pacific Northwest. Their missions has remained one of writing music that showcases an ongoing storyline told through lyrics and musical motifs while over engineering every technical decision from "how can we add more violin" to "yes the Gameboy needs an overdrive pedal". They're releasing two records this year; Empty Victories, and a nontraditional monthly writing exercise called Twelve Months, which is partially available on YouTube as you read this.

Available releases consist of the solo debut The GLOW EP (2009), the first record with live members .:INSTANT GRATIFICATION:. (2012), the Kickstarter Funded opus After The Lights Failed (2014) and a summer single Rallying Cry (2015).

The group has played extensive festivals of both mainstream and video game focused varieties, from LIVE105(now Alt105)'s BFD, subZERO Festival, Left Coast Live, and C2SV to 8BitLA's FreqFest series (Los Angeles, San Josť and San Francsco), Hack the Multiverse E3 showcases and MAGFest's MAGWest, as well as having toured the west coast of the US and have their music showcased on NPR Music, CMJ, The Bay Bridged and more.



Talk


members of

Picture Atlantic

and

Finish Ticket


Nik Bartunek, Lucas Lee,
Ryan Blair, Nick Stein
-from Bay Area, CA


-Started by former Picture Atlantic members Ryan Blair, Nik Bartunek, Finish Ticket keyboardist Nick Stein, and The Headlands guitarist Lucas Lee, Talk (formerly Byzantine Talk) is an indie rock band from the Bay Area, CA. With a sweeping, dynamic, and cinematic sound, their scope goes from tender and intimate folk-inspired lows to layered and energetic analog synth highs.