Saturday April 27 2019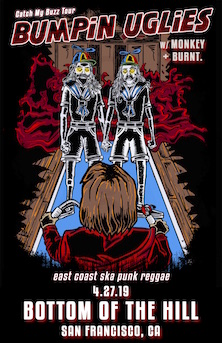 8:30PM

doors -- music at 9:00PM
••• ALL AGES
$
12

in advance

/ $15

at the door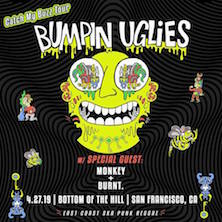 Catch My Buzz Tour


Bumpin Uglies
www.bumpinugliesmusic.com/


Ska/Punk/Reggae


Monkey
monkeyskaband.tumblr.com/


Ska Reggae Rocksteady


BURNT.
www.facebook.com/burntband/


Reggae/Alternative




---

Bumpin Uglies
Brandon Hardesty – Vocals, Guitar
Dave Wolf – Vocals, Bass
TJ Haslett – Drums
Chad Wright – Vocals, Keys, Guitar
-from Annapolis, MD
-For nearly a decade now, Bumpin Uglies have been playing their brand of groove-heavy jams – a curiously fun mix of ska, Reggae and good ole' punk rock – all while putting strong lyrics at the forefront of the music. It's a formula that quickly took them from local favorites, playing around Annapolis, to a national stage. With a wildly infectious sound, tattoo-worthy lyrics and an itch to take their music to the masses, the band piled into the van years ago and have rarely seen home since.

When they aren't on the road, they've been camped in the studio, churning out four full-length albums, two acoustic albums, three EP's and a Live record. Their latest, 2018's Beast From The East came out on Space Duck Records and is proof that the band has found their groove. The album consists of a dozen stand-out tracks, any one of which could be considered instant classics for the band. The album also features some big names in the East Coast reggae-rock community including Ballyhoo!'s Howi Spangler, the Movement's Gary Dread, Passafire's Ted Bowne, Tropidelic's Derek McBryde, Matthew Roads & Young James, Zach Fowler of Sun Dried Vibes and Oogee Wawa's Jesse Lee. Buzz magazine raves "Beast From The East IS A CAREFULLY CRAFTED PUNK-REGGAE GEM."

The Bumpin Uglies' origin story begins with singer/guitarist Brandon Hardesty playing open mics around Maryland. He met bassist Dave Wolf not too long after and Bumpin Uglies was born. With a proper set of wheels and TJ Haslett on drums, they went off to spread their music across the country like modern day Johnny Appleseeds. The group recently added Chad Wright on keyboards, expanding on their sound.

Raised on everything from Bad Religion and The Beach Boys to Sublime and Reel Big Fish, Bumpin Uglies have managed to take inspiration from some of the best out there, run it through their own distinctive filter and end up with a truly original take on the various genres creating an original hybrid. With a unique sound that's nearly impossible to ignore, the band has gotten everyone from dreadlocked kids to PBR-fueled tattooed punks moving their heads to their music at festivals and on headlining tours across the country.





Monkey
CURTIS "Curtron" MEACHAM - Guitar/Vox
MICAH "MC Brown Crown" TURNEY - Drums
BRIAN "Brainer" LOCKREM - Trumpet/Vocals
GABE "It's all Good" JIMENEZ - Bass
-from San Jose, CA
-"The Hardest Working Band on the West Coast"

MONKEY is a 5 piece high-energy organ driven, Ska/Reggae group from the SF Bay Area. Intense live shows and rock-steady rhythms not only get the crowds dancing, it has won the band several awards, including the prestigious California Music Award (BAMMIE)!

MONKEY sets the pace for the local music scene. The band performs over 200 shows per year, while constantly recording and touring.

MONKEY has 5 full-length albums, and has also been featured on over 25 compilations, video games and film soundtracks, including the new independent horror-comedy Russ Meyer tribute "Pervert the Movie" on Stag Films.

MONKEY has toured the U.S., Great Britain, Canada, & Mexico. Currently, the band is gearing up support their international interests in Japan to support their new Japanese compilation release "Monkeyska" (Disc Union Ltd.).

MONKEY has supported world class acts like: Bad Manners, The Specials, The English Beat, The Skatalites, Fishbone, The Slackers, Hepcat and many more...





BURNT.


-from San Francisco, CA




-BURNT music is a psychedelic and soulful blend of reggae, ska, punk and hip-hop sounds. Inspired by DIY artist subculture, this San Francisco based band has independently produced 10 albums of original music. Originally formed in 2003, BURNT continues to tour extensively on the west coast of the U.S. and Canada.