Friday May 3 2019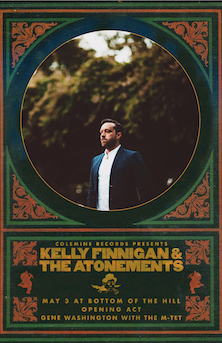 8:30PM

doors -- music at 9:00PM


••• 21 AND OVER




$

17

in advance

/$20

at the door


Kelly Finnigan & The Atonements
www.kellyfinnigan.com/


soul singer songwriter


Gene Washington & M-Tet


www.coleminerecords.com/collections/gene-washington-the-ironsides


Soul





---
Kelly Finnigan & The Atonements


-from the Bay Area, CA


-After touring the world for over a decade with Monophoics, 37-year-old, Bay Area-based singer, songwriter, engineer, and producer, Kelly Finnigan will release his first solo album, The Tales People Tell on Colemine Records, in the first quater of 2019. Raw and gritty, tender and emotive, lush and symphonic, t he ten-song collection is Finnigan's most complete work to date. With Kelly guiding these songs from their conception all the way to the record pressing plant, the new release provides the singular voice missing from soul music.

Born in Los Angeles in 1981, Finnigan grew up in a musical household. His father, legendary keyboard player and vocalist Mike Finnigan (Jimi Hendrix, Joe Cocker, Etta James, Bonnie Raitt, Taj Mahal, and CSN) would start some days by sitting at the piano, singing songs like Ray Charles' "Hard Times," cascading throughout their ranch style home. Despite having a father so deeply entrenched in the music industry, Finnigan resisted any formal musical education: "I only took three or four piano lessons before quitting, although I would bang around on a cheap blue Remo drum kit stashed in the corner of my room."

"I'm not looking to reinvent the wheel. I just want to remind people why the wheel was such a good invention in the first place," says Finnigan. He might be invoking a golden era of soul music, but Finnigan captures a timelessness on this album that transcends the "retro" label so often cast on music with a gritty aesthetic. Partnering with Terry Cole and his rising label Colemine Records was a key part of this project for Finnigan who has been involved in over a dozen Colemine releases as an engineer, producer, instrumentalist, and singer. Finnigan plans to tour heavily in 2019 behind the album release.





Gene Washington & M-Tet


-from the Bay Area, CA




-Developed in 2010 by SF Bay Area natives, brothers Max and Joe Ramey, The Ironsides originated as a studio project dedicated to the revival of 60's and 70's soul music, with emphasis on a vivid cinematic, soundtrack vibe. Since the recording of their first 45 record released by the acclaimed Colemine Records, The Ironsides have moved into Soul with a capital "S" harkening back to the golden days of Stax and Motown. Now accompanied by diamond-in-the-rough, front man, and lady killer, Gene Washington brings to The Ironsides the tenacity of his vocal talent with a raw, authentic, and soulful sound. Gene Washington & The Ironsides have shared the stage with artists such as Lee Fields & The Expressions, Orgone, Monophonics, and Clairey Browne & The Bangin' Rackettes. Gene Washington & The Ironsides are currently in the trenches of the studio, hoping to release their first album in 2016, but in the meantime can be seen in the Bay Area performing rare and obscure soul music.