ADMISSION TICKET
FOR SATURDAY 5/4

$30


2-DAY PASS
(SAT 5/4 & SUN 5/5)


$50




Saturday May 4 2019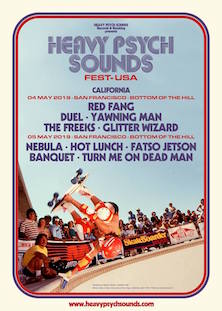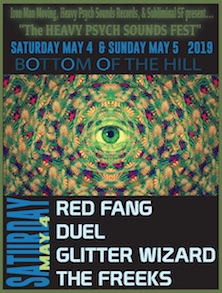 9:00PM

doors -- music at 9:30PM


••• ALL AGES




$

30


••• or a 2-day pass for

$50




Iron Man Moving, Heavy Psych Sounds Records & Subliminal SF

presents..




"The HEAVY PSYCH SOUNDS FEST"


Red Fang


redfang.net/


Rock


Duel
www.facebook.com/DUELTEXAS/


Tripped Out Stoner Metal


The Freeks
thefreeks.com/


Fuzzed Psychedelic Rock'n'Roll


Glitter Wizard
www.facebook.com/Glitter-Wizard-77619029508/
Progressive Punk
Yawning Man
yawningman.com/


Desert Rock/Ambient/Instrumental



---

Red Fang
Bryan Giles - Guitar/Vocals
Aaron Beam - Bass/Vocals
David Sullivan - Guitar
John Sherman - Drums
-from Portland, OR
-Ever since their inception in 2005, Portland's RED FANG have strived to write heavy, catchy music underlaid with subtle complexities. Founded by David Sullivan, Maurice Bryan Giles, Aaron Beam, and John Sherman, the band had a distinctive and fully-formed sound right from the start: a mix of compelling rock songwriting and party-hard metal euphoria that speaks to the headbanger, the hesher, and the music student alike. The band's two-pronged vocal attack and knack for finding the sharpest hooks made sure that the music world caught on right away.
Within just one year of RED FANG's first show, they were opening for genre stalwarts Big Business and The Melvins, and soon began appearing at festivals including FYF, Fun Fun Fun Fest, Sasquatch Fest, and more.




Duel
Tom Frank - guitar,vocals
Shaun Avants - bass, vocals
Justin Collins - drums
Jeff Henson - guitar
-from Austin, TX


-DUEL is heavy psychedelic stoner doom metal from Austin, Texas. Hugely influenced by the darker sounds of early 70's Proto-metal. Features two ex Scorpion Child (Nuclear Blast)members. Their sound is menacing and brutally old school. Total purists, their tunes cut right to the bone with heavy, deep groove and blistering tone. Tough and Loud! Hard rock as it should be!






The Freeks
Jonathan Hall
Ruben Romano
Esteban Chavez
Ray Pillar
Bob Lee
-from Los Angeles, CA


-Los Angeles band, THE FREEKS, know that as the Earth revolves the sun and the Universe infinitely expands, it must be shared with as many different kinds of life as there are stars. A bold statement coming from a bunch of FREEKS. This is not a new concept, however, an ever recurring one dating back to Ezekiel's biblical account to even further back with evidence from ancient Egypt and Mayan times. A_er 4,000 years the theory continues strong as we enter 2018.




Glitter Wizard
Wendy Stonehenge, Doug Graves,
Lorfin Terrafor, Kandi Moon, Fancy Cymballs
-from San Froakland, CA


-Glitter Wizard plays a unique brand of freak rock and roll that Julian Cope once described as "unashamedly glamorous hard rock"and he's not wrong. For the past decade ,these San Francisco heshers have been wowing rock fans with heavy riffs and a high octane stage show that combines psych, metal, punk, glam, and prog into a sound that is both hard to pin down and easily recognizable as their own. They have won over audiences touring the US and Europe, playing club shows and festivals like Roadburn, DesertFest, BurgerBoogaloo, SXSW, Desert Daze ,Psycho de Mayo, and Heavy Days in Doomtown along the way. Their music has been featured in film, podcasts, the X Games, and even a low budget porno. Glitter Wizard have released three full length albums, as many Eps, and are currently preparing to record their fourth studio album via Heavy Psych Sounds!




Yawning Man


-from THE DESERT, California


-Formed in the late 1980's, the lineup of Gary Arce, Mario Lalli, and Bill Stinson rounds out their yearlong active recording and touring schedule. Arce and Lalli's background together date back to the start of Yawning Man with Stinson's background steeped in the SST Records world through performing and recording with Gregg Ginn and Chuck Dukowski of Black Flag for several years. Yawning Man is acknowledged and recognized throughout the underground heavy music community as a key piece in the developments of the desert/stoner rock sub-genres. While their contemporaries gravitated toward the heavy riffs of grunge, and post punk, Yawning Man leaned in another direction with their unique and organic, cinemaBc compositions and psychedelic improvisations...the perfect soundtrack to encompass the spacious moonscape atmosphere of the well documented "generator parties" of their area in the late 1980's. It was at these gatherings where they developed this distinctive style and sound by enchanting spectators with their seemingly endless free form instrumental sessions, which echoed through the beautiful deserts, mesas, and landscapes of the Coachella Valley.