Sunday May 5 2019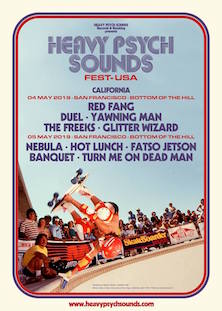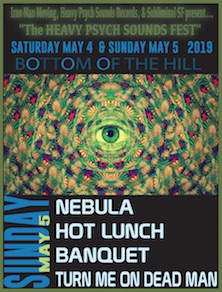 2:00PM

doors -- music at 2:30PM


••• ALL AGES




$

30


••• or a 2-day pass was

$50




Iron Man Moving, Heavy Psych Sounds Records & Subliminal SF

presents..




"The HEAVY PSYCH SOUNDS FEST"




Afternoon BBQ Show: Free BBQ food on the patio!


Nebula


atomicritual.com/


psychedelic rock'n'roll


Hot Lunch


www.facebook.com/HotLunchRocks/


punk 'n' roll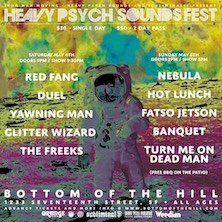 ----

Fatso Jetson

off the bill


Banquet
www.facebook.com/banquetband/


heavy rock n roll


Turn Me On Dead Man
www.facebook.com/TurnMeOnDeadManSF/


DeepSpace SuperRock



---

Nebula
Eddie Glass
Tom Davies
-from L.A. / USA
-Guitarist Eddie Glass and drummer Ruben Romano formed Nebula in 1997 a_er breaking away from desert rock pioneers Fu Manchu, eventually recruiting bassist Mark Abshire. This power trio specializes in feedback-drenched heavy rock, incorporating liberal doses of Black Sabbath riffery, psychedelia, and space rock. The band released a number of EPs before moving onto full-length albums like 1999's To the Center and 2001's Charged. They've mainly distinguished themselves as a very hard-working live unit.
Nebula creates pure guitar-driven, conscious expanding rock for the 21st century. They are a culmination of their rock forbearers such as Jimi Hendrix, MC5, The Stooges and Mudhoney turned up a notch, taken to the next level and blasting through space. Nebula spread their gospel through their music and what they are preaching will leave the congregation on the floor.




Hot Lunch
Eric Shea
Aaron Nudelman
Rob Alper
Charlie Karr
-from San Francisco, CA


-Hot Lunch is a punk 'n' roll band from the San Francisco/Oakland Bay Area that specializes in getting loud, getting weird and getting rad. The quartet's unique blend of brown-acid skate-rock and wah-fuzz proto-metal was born in the bowels of skatanic rituals, biker beer busts and wizard staff meetings. With a head-bludgeoning sound that refuses to take sides (and showers), Hot Lunch are on a hell-bent mission to create the best party soundtrack in the history of all music.






Banquet
Eric " don cheeto" kang
Doug Stuckey
Damon Lockaby
Brandon " nug" Chester
-from San Francisco, CA
-The once fruitful rock n' roll city of San Francisco is now a barren womb, fraught with the lasting effects of technological herpes. Thankfully a polyp known as Banquet has formed and is screeching for freedom from the womb's clutches. With dual ripping lead guitars, howling vocals and a rhythm secBon that can make a pregnant woman's water break.





Turn Me On Dead Man
Mykill Ziggy
Christopher Lyman
Nick Doom
Jeff Vengeance
Jonesy Daysleeper
-from San Francisco, CA
-The band that fell to Earth, Turn Me On Dead Man have delivered a deep space message from the future to the inhabitants of this dying planet with their new opus HEAVYMETAL MOTHERSHIP.
The bands twin guitar harmonization, melodic rhythmic switchbacks and trippy apocalypto- mystical lyricism keep California's psychedelic rock tradition alive.
Mind melt music for the sick and twisted, heavydelic super rock for the ultimate freak out.