Friday May 17 2019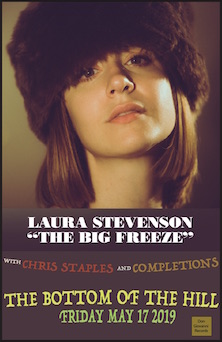 8:30PM

doors -- music at 9:00PM


••• ALL AGES




$

15

in advance

/ $17

at the door


Laura Stevenson
laurastevenson.squarespace.com/


folk rock


Chris Staples


www.chrisstaplesmusic.com/


spirituals / breakfast music


Completions
completionsmusic.com/


cello folk




---

Laura Stevenson


-from Hudson Valley, NY


-Laura Stevenson is a Brooklyn, NY-based singer-songwriter, as well as an alum of cult-DIY collective Bomb the Music Industry! Stevenson self-released her first album, A Record, in 2008, and her wonderful sophomore effort Sit Resist was released on Don Giovanni.
Anyways, Laura's music has drawn comparisons to Regins Spektor and Joanna Newsom, because she's a cute girl who writes cute songs n' such.

"Laura Stevenson proving, once again, that she is the sort of songwriter and lyricist that deserves to be viewed now and in the future as a total classic."





Chris Staples


-from Seattle, WA


-Chris Staples is an indie rock singer/songwriter/guitarist who got his professional start as a teenager in Pensacola, Florida. He's released multiple solo albums, but is also known for his work in the bands Twothirtyeight, Discover America, and Telekinesis.

Staples co-founded the Florida alt-rock/Christian punk band Twothirtyeight in 1995, serving as lead singer and guitarist. The group released a few EPs before their bass player, Kevin Glass, was killed in a car accident in 1997. After regrouping from the tragedy, the lineup of Staples, Owen Grabo, DJ Stone, and Kevin Woerner signed with Takehold Records, which released their full-length debut, Missing You Dearly, in 1999. The album was dedicated to Glass. Regular lineup changes followed, as did the 2000 EP Matter Has a Breaking Point (without Grabo) and the LP Regulate the Chemicals (with Jake Brown on bass). Their final album, You Should Be Living, appeared in 2002 without Stone or Brown. The remaining group decided to go their separate ways in 2003.

The following year, Staples released a solo album on the Makebreak label. Titled Blackest Hair, Bluest Eyes, it collected previously self-released solo material along with two unreleased songs. He then relocated to Seattle, Washington and founded the more singer/songwriter-influenced indie rock outfit Discover America. Essentially a solo project, he recorded its debut album, Psychology, at his home studio. It was released by Tooth & Nail Records in 2005, and an eponymous EP followed in 2007. The sophomore LP, Future Paths, appeared in 2010 on Lujo Records. That same year, he put out another album as Chris Staples; Badlands was inspired by the Terrence Malick film of the same name.

In the meantime, the musician joined the Michael Lerner-led band Telekinesis as guitarist. They issued the albums Telekinesis! and 12 Desperate Straight Lines in 2009 and 2011, respectively, before Staples left the group. Twothirtyeight then reunited briefly in 2012 for an appearance at the Deluna Festival in Florida. Back on his own, Staples finished work on another solo LP. Moving further into the realm of indie singer/songwriter, the intimate American Soft arrived via Barsuk in 2014. He followed it with 2016's Golden Days, a reference to moving forward from an idealized past. ~ Marcy Donelson





Completions
Shawn Alpay
-from Portland, OR
-Shawn Alpay learned his first instrument at age ten. He chose the cello because it wasn't too big and it wasn't too small, and that suited him fine. He played in orchestras throughout high school and college, but he departed the classical world soon after to pursue the potential of sharing his own voice.

For several years, Alpay led a large orchestral rock outfit called The Definite Articles. They recorded their only full-length at Tiny Telephone in San Francisco. The group disbanded, but Alpay hung around the studio immersing himself in the craft of audio engineering. He soon became a house engineer and producer there, but his own creative output drifted off.

Then his mom unexpectedly passed, and the sharpness of those emotions got him to push through his self-doubt and start writing again. The stage name of Completions serves as a continuing reminder that revision can serve too much like a shield, and that it's more important to finish an imperfect creation than to let it die on the vine. With that in mind, Alpay once again hunkered down at Tiny Telephone to record.

Completions, the self-titled EP, was released in 2015. While the material touches on several personal stories and specific experiences, it also speaks broadly of empathy and shared experiences.

As a live band of one, Alpay sings over a plucked cello onstage, invoking the idiom of quiet and thoughtful projects like Jose Gonzalez , Andy Shauf, and Sufjan Stevens. In addition to pursuing his own project, Alpay has performed live in several others, including matt pond PA, How To Dress Well, and Father John Misty. He now lives in Portland, OR, and he's busy writing material for an upcoming LP.