Thursday May 30 2019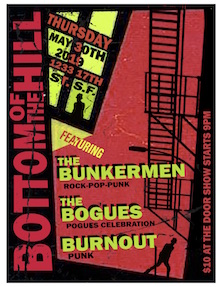 8:30PM

doors -- music at 9:00PM


••• 21 AND OVER




$

10


The Bunkermen


bunkermen.bandcamp.com/


funk punk rock


The Bogues


www.paulgriffithsmusic.com/bogues


rock'n'roll


Burnout
www.reverbnation.com/burnout7


rock




---

The Bunkermen


-from San Francisco, CA




-San Francisco locals the Bunkermen have been playing together in various arrangements for 20+ years. Vocalist, keyboardist, songwriter Dr. Rick, along with Rich Oliva (bass), David Eakes (drums) and Chris Wing (guitar) have played with the likes of Ian Anderson (Jethro Tull), Bill Spooner (the Tubes), the Clams, the Hodags, Back Burner Blues Band, and others. The Bunkermen's punk, funk, rock-groovin' storytelling style produces some of the most innovative originals around. And, yes, they practice in an underground bunker hidden in the SF hills.






The Bogues


-from San Francisco, CA


-The Bogues is a San Francisco based 8-10-piece Pogues celebration band founded by Bay Area songwriter and British Isles transplant Paul Griffiths."With our singing, bouzouki, tin whistle, banjo, accordion, mandolin, guitar, fiddle, drums, and, when circumstances demand, trombone, we celebrate the genius of Shane MacGowan and The Pogues, inspired by their fiery mix of traditional Irish folk and blood and guts rock 'n' roll; 'the brandy of the damned,' as Tom Waits called them." For their inaugural show on Saint Patrick's night in 2012, San Francisco's Make Out Room invited The Bogues to perform the definitive Pogues album Rum, Sodomy, and the Lash in its entirety. With an ever expanding repertoire, the band has since been invited to play at The Starry Plough in Berkeley, Smiley's Schooner Saloon in Bolinas, Amnesia Music Hall in San Francisco and lots of places in between including numerous private events. The Bogues include many of the Bay Area's finest musicians, and have attracted guest luminaries (and Pogues fans) such as Joshua Raoul Brody (Everyone(!!!) including Robin Williams and Tom Waits),Ralph Carney (Tom Waits/Elvis Costello/Allen Ginsberg) , Kevin T. White (Chuck Prophet), and storyteller Bryan McCaul of Coote Hill, Ireland.
The Bogues are available for parties, wakes, and interventions.





Burnout
Brian Saxon - Guitar
John Ellis - Drums
Jester Banks - Vocals
Chris Sheldon - Bass
Nat Bigger - Vocals
-from San Francisco, CA


-"SF based shit rock band playing your favorite shit rock songs in a garage near you. Fast Fuzzy and Pissed !"