Friday June 7 2019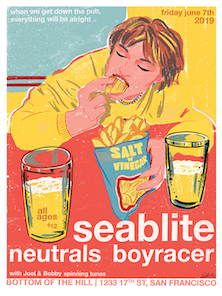 8:30PM

doors -- music at 9:00PM


••• ALL AGES




$12




KALX

presents...


seablite


(Album Release)


www.seabliteband.com/


pop fuzz-pop jangle-gaze


Neutrals


(Album Release)


www.facebook.com/neutralsnotswiss/


punk


Boyracer


from Leeds, UK; now Arizona


www.facebook.com/Boyracer-356470617840178/


Lo-fi/punk/twee rock


and...


Joel Gion

(from

Brian Jonestown Massacre

)

&

Stand-In

spinning
---

seablite
auren * galine * jen * andy
-from San Francisco, CA


-"After a gloriously received cassette EP, Emotional Response are proud to release the debut full length from this acclaimed and adored Bay area pop-band. On Grass Stains and Novocaine seablite (3 gals, one guy), spread their infectious pop-chops over 11 surefire winners, with a confident mix of shimmering and weightless female vocal melodies and blissed out guitar pop, providing a mix of UK '80's DIY-indiepop coupled with an updated take on many of the greats of the shoegaze era, such as Lush, Pale Saints, and MBV." - Stewart Anderson, Emotional Response Records.






Neutrals
Allan
Phil
Phil
-from SF/Oakland, CA


-DIY true sounds of middle-aged North Lanarkshire via Oakland. For fans of: making turntable scratching sounds with the zip on your track suit top.






Boyracer


-from Leed, UK/ Flagstaff, AZ


-Boyracer is an indie/punk/twee rock band formed in Leeds in 1990. Born from the largely fictitious "Wetherby scene" of the early '90s, BOYRACER to date have released over 800 commercially physically available songs, and have remained enthusiastic flag-wavers for many indie and punk labels from all over the globe. They have played their part in the SARAH RECORDS, A TURNTABLE FRIEND, and SLUMBERLAND records history through fiery punk-pop blasts such as "I've Got It and it's Not Worth Having" and "He Gets Me So Hard" (both included here).

Armed with a fuzzbox, and a revolving door cast of over 50 members past and present, founding frontman Stewart Anderson, formerly of Leeds UK, now resides in Flagstaff Arizona, and with wife (and Boyracer member) Jen Turrell, also runs the EMOTIONAL RESPONSE label.